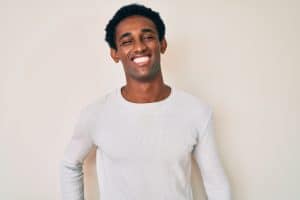 Porcelain veneers make changes that can surprise and excite patients. This approach to cosmetic dental work is often taken because it can help with a variety of problems, and because it can take on several problems at one time. With their placement, you can effectively enjoy a smile makeover that boosts your confidence while giving you a more youthful and attractive appearance. Veneers make these improvements with minimal changes to your tooth structure. Once these custom shells are ready, they are bonded to the fronts of teeth. This process requires less work and fewer changes than the placement of dental crowns. The placement of your veneers will still create impressive and long-lasting changes you can feel excited to show off!
1. Hide Dental Damage Caused By Years Of Gradual Wear And Tear
Over time, people can see gradual changes in the quality and condition of their smile because of wear and tear on their enamel. This can be a bigger problem for those who grind their teeth at night because of TMJ troubles. With veneers placed over worn teeth, your smile can look more youthful, more symmetrical, and generally more attractive. Veneers often prove effective at restoring smiles that are negatively impacted by chipping and cracking that can occur because of teeth grinding.
2. Hide Blemishes That Hurt The Color Of Your Smile
Teeth whitening treatment helps you by removing stains that have gathered on your enamel. While this is a common issue for people with dental discoloration, it is not the only problem that can affect the color of your smile. Porcelain veneers can help those who are bothered by internal blemishes caused by injuries, certain medications, and any other problems. Tooth bonding treatment can also help to hide these flaws.
3. Cover Gaps Or Overlaps That Make Your Smile Look Uneven
Will you need orthodontic work to correct problems with gaps and overlaps between teeth? If your smile appears uneven because of these flaws, you may be able to resolve your troubles with veneers. We can carefully plan the restoration of your smile with veneers that effectively hide signs of poor smile alignment. After they are affixed to your teeth, your smile can appear more even and more attractive!
Talk To Sunny Smiles About Treatment With Porcelain Veneers!
Through the right cosmetic dental procedure, you can enjoy a significant confidence boost! Sunny Smiles provides several treatment options for people in and around the El Paso, TX area. Those who are interested in porcelain veneers can see many exciting changes brought on with minimal alterations to their tooth structure. If you want more information about this procedure, or if there is any other dental matter that you would like to discuss, please contact Sunny Smiles in El Paso, TX by calling 915-859-7000.