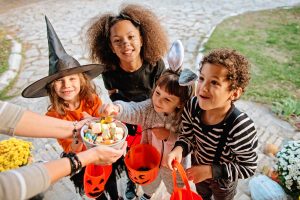 Many families look forward to celebrating Halloween, especially when they have kids who still enjoy trick or treating. Even if you have no plans to go door to door for sweets, you can find it hard to resist indulging around this time of year, as the holiday tends to put more candy in front of us. While the occasional treat can be hard to resist, this is a time of year when people of all ages should be more mindful of their cavity risks. Sunny Smiles is here to help families in and around El Paso with cavity prevention throughout the year. If you are past due for your own checkups, or if you need to set up visits for your kids, our practice is here to help by offering important preventive services!
Your Cavity Risks Can Rise Around Halloween
Some types of Halloween candy are riskier than others. Stickier treats are more likely to cling to teeth and cause more harm. When your kids receive harder candies, they have a greater risk for dental injuries. With that said, an increase in sugar consumption is trouble no matter what kinds of treats find their way into your home during Halloween. Being mindful of this can help—look for ways to cut back on sugars at meals and snacks, and give your kids clear limits on how much candy they can have on a given day. Remember to pay attention to your own habits. You may not notice just how many more sweets you end up eating when you have them in your home, which means you can also have a higher cavity risk!
Helping Kids Avoid Problems With Their Dental Health
If your kids are old enough to brush and floss their teeth, this is a great time to drop in and make sure they do so effectively. When they have good habits that they follow, they have lower cavity risks. However, even if they do a good job cleaning their teeth, this is still a time when you need to think more about what they are eating at meals and snacks. In addition to setting limits on their treats, think about how you can plan meals and snacks that are healthier and lower in sugars and starches.
Make Sure You Do Enough To Protect Your Teeth, Too
You may have more self-control than your kids when it comes to candy consumption, but relatively small changes in your exposure to sugar can raise your cavity risks, too! This is an especially good time to set up an oral health exam if you are past due for one. At a review, we can provide a thorough review of your teeth and gums and provide a detailed cleaning.
Talk To Sunny Smiles To Enjoy Protection Against Cavities
The right defense against cavities is important any time of year, but it can be especially important during Halloween, a time when people have more risks due to the readily available holiday candy. To make sure your family is staying healthy, please contact your El Paso, TX, dentists by calling our practice at 915-849-9000.