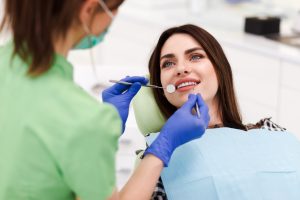 Are your efforts to prevent cavities going to be successful, or should you expect to have restorative work performed at your next dental checkup? While patients tend to understand that they should take care to avoid problems with dental decay, they can be more vulnerable to this issue than they expect. The good news is that when combined with good daily habits, your regular dental exams can keep you safe from this problem. In fact, you can even pick up tips on smarter smile care when you visit Sunny Smiles for routine services! We provide support to patients of all ages, which means we can help kids as well as adults avoid problems that require restorative services.
Are You Seeing Your Dentist Regularly For Preventive Care?
How long do you typically go between routine dental checkups? If you want to stay consistent with these appointments, you should go in on a semiannual basis. At this rate, you can receive important regular updates regarding your oral health as well as teeth cleanings that remove harmful plaque and tartar from your smile to lower your risk for future problems. If you do experience trouble with dental decay, regular checkups provide early warnings about these problems so that you can avoid complications that change the type of treatment that you need.
Discussing Your Oral Health During A Routine Appointment
When you go in to see your dentist for routine care, you will undergo both a thorough teeth cleaning and a review to alert you to any problems with your well-being. Cleanings remove plaque and tartar buildup, which will lower your risk for problems. When you brush and floss, you can take care of plaque buildup. However, if you are already affected by the accumulation of tartar, it will take a professional cleaning to fully protect your smile. Your reviews lead to the discovery of any problems that you have with your oral health that require treatment. These appointments also give you the chance to ask your dentist questions about your approach to preventive care.
We Can Address More Than Tooth Decay When You Visit Us!
When you are in the dentist's chair, we can talk to you about more than just dental decay! We can also point out signs of poor periodontal health, and we can provide preventive care to fight gingivitis and prevent it from worsening. Our practice can also work with you on correcting other matters, like TMJ disorder, which can negatively impact your quality of life.
Schedule Your Next Checkup At Sunny Smiles!
By regularly seeing your dentist for preventive care, you can lower your risk for cavities, and you can make yourself less likely to have a problem with tooth decay that worsens and requires more advanced care. If you would like to find out more, please contact Sunny Smiles in El Paso, TX by calling 915-859-7000.