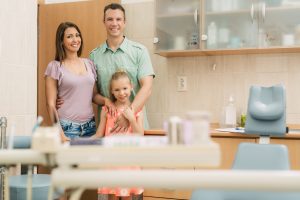 Family dentistry covers the needs and concerns of patients of all ages. In other words, you can bring everyone in your household in for important oral health support. Sunny Smiles is here to help families in and around El Paso keep their teeth and gums in good health. We can do so by providing ongoing preventive care, and we can also step in and offer restorative services when we need to. Whether you have a young child who needs to come in for their first appointment or you are looking for a new practice that can help everyone in your household, we are ready to provide the right support!
Can I Bring Everyone In My Family To The Same Dental Practice?
Because we provide services for children and adults, we can make it easier for families to stay on top of dental care. While people of all ages face the same major threats, there are differences in how a patient's smile care should be approached based on their age. For younger children especially, it is important to provide guidance on how to maintain good oral hygiene, as well as informing them of why they should take smile care seriously. Adults can benefit from ongoing protection from cavities and gingivitis, but they also benefit from helpful intervention when issues like TMJ disorder disrupt their quality of life.
Scheduling Oral Health Care For Kids
Once your child is old enough to start seeing the dentist, they can benefit from ongoing services that cover both in-office care and instructions on smile care at home. We can help children develop the right oral hygiene habits, and we can also help them understand why these habits are important to follow. When it is necessary to do so, we are prepared to provide conservative cavity treatments that protect teeth and avoid problems with their development.
Keeping Up With Your Smile Care As An Adult
Keeping up with good oral hygiene will help you maintain an attractive and confident smile. It will also help you avoid issues with your dental and periodontal health that can impact your overall well-being. By consistently scheduling your own regular dental exams, you can avoid difficulties with tooth decay and gum disease. We can also alert you to problems with poor jaw movement and alignment, which can lead to persistent TMJ pains.
Talk To Sunny Smiles To Schedule Treatments For Your Family
By visiting a family dental office, you can make sure everyone in your household has the right kind of oral health support. Sunny Smiles is prepared to serve the needs of children and adults, which can make treatment easier to arrange and keep up with. It also means you can rely on one trusted location for all of your questions and concerns! If you would like to know more, or if you are ready to set up an appointment, please contact Sunny Smiles in El Paso, TX by calling 915-859-7000.