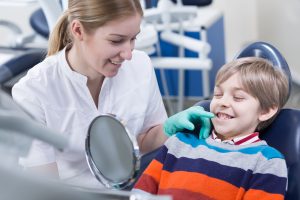 Your El Paso family dentist is here to take care of everyone in your household. Sunny Smiles welcomes both adults and kids at our practice, and we take care to make sure that people of all ages receive the care that truly fits their needs. For adults, routine services focus on helpful updates and warnings regarding the state of patients' smiles. We look out for more than just dental decay, as we also watch for signs of trouble with poor jaw movement, and with poor periodontal health. Our younger patients receive helpful support in the form of in-office service and guidance to help them take better care of their teeth at home.
A Family Dentist Can Work With Everyone In Your Household
Everyone in your family should enjoy the kind of oral health support that helps prevent dental decay, gum disease, and other problems that can impact your smile and general well-being. Having one location for everyone in your household can make arranging dental services more convenient, and it can give you access to one trusted source for all of your smile care concerns. We also make the transition from early pediatric care to the kind of support adult patients receive easier for kids, as they can stay with the same professional as they grow older.
The Lasting Value Of Pediatric Dental Care
While it is important for people of all ages to consistently enjoy dental care, children can receive benefits from their visits that should be acknowledged. Their earliest visits will help them become familiar with their new surroundings, which can make subsequent appointments easier. They also enjoy guidance and assistance to help with cavity prevention at a time when they must learn how to take care of their teeth. Appointments also give your dentist the chance to keep track of your child's growth and development. We can alert you to any problems that we identify as their oral structures develop, and from there we can discuss treatment.
What To Expect When You Need To Arrange Treatment
If you need to arrange restorative dental work for yourself or one of your kids, we are here to help! Our focus is on fully restoring problem teeth without causing unwanted smile changes. We can provide dental fillings and dental crowns that match your healthy tooth structure, which can make you more comfortable with the way you look after treatment is complete.
Schedule Family Dental Care At Sunny Smiles!
The right family dentist can make sure you and your loved ones enjoy the right kind of smile support. At our locations, you can find professionals who are ready to provide the right kind of support for your household. To find out more, please contact Sunny Smiles in El Paso, TX by calling 915-859-7000.