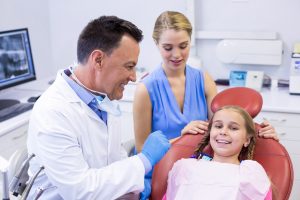 Family dental care can cover the needs of everyone in your household. When you find a practice that is prepared to see both parents and kids, you can have an easier time arranging everyone's care. You can also feel more comfortable when you have one office to turn to for different smile concerns. Sunny Smiles is proud to serve the dental needs of families in and around the El Paso, TX community. We can make sure our youngest patients feel comfortable with smile care at home, and that they are at ease when they see us for appointments. We also offer the services and support that adults depend on to keep their teeth and gums healthy through the years!
Can One Dental Office Really Help Everyone In Your Family?
From the time when our first teeth start to arrive, we are vulnerable to dental decay. Your risks for oral health issues may be constant, but the right kind of dental care can change as the years pass. For younger kids in particular, it is important to offer guidance and support when it comes to in-office care as well as at-home care. Over time, individuals can become more comfortable caring for their teeth on their own, but they still depend on regular reviews as well as scheduled teeth cleanings to protect them from problems with cavities and gum disease.
What Do Kids Need From Their Dentist?
Early dental visits help a child feel comfortable with the idea of oral health care, and with future appointments. When we provide pediatric dental services, we take care to make kids feel comfortable throughout their time with us. As they reach the appropriate age, we can adjust our approach to match the kind of preventive care patients of all ages receive. We can also provide guidance to kids as they reach a point where they can brush and floss for themselves. This early encouragement will help them pick up good habits that they can maintain in order to keep their teeth in good shape.
The Importance Of Ongoing Oral Health Support For Adults
While you may be more comfortable with oral health matters than your child, you should not assume that you have nothing to gain from regular dental exams of your own. During your appointments, we provide protection against tartar buildup as well as early warnings about dental decay and gum disease. These early warnings can protect you against complications that will put your smile and overall health at risk!
Sunny Smiles Can Provide Reliable Family Dental Care For You And Your Kids
Finding a family dentist who can serve your household makes important services easier to access and arrange. Sunny Smiles is ready to meet with kids and adults to provide ongoing support, which can include general services as well as treatments to address smile and oral health issues. If you have questions or wish to set an appointment, contact your El Paso, TX, dentists by calling us at 915-849-9000.