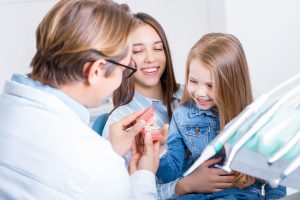 What can you do to make sure everyone in your household is protected against tooth decay and gum disease? Good daily habits are important for keeping both kids and adults safe against oral health threats. You should also make sure that your family has access to reliable dental services. Sunny Smiles provides support for patients of all ages. At your regular appointments, you can enjoy early warnings about problems that might require treatment. These visits also provide support in the form of teeth cleanings that remove plaque and tartar in order to lower your risk for future difficulties.
Our Office Can Provide Important Care For Kids And Adults
We welcome patients of all ages to our office, and we take care to provide the right kind of support based on their individual needs. We can combine preventive care with helpful instructions and guidance to kids, which will help them develop good habits that support them through the years. Adults can benefit from maintenance over time that will help them stay protected against cavities as well as problems like gingivitis.
Is Your Child Receiving The Right Oral Health Support?
With the arrival of their first teeth, children do become vulnerable to cavities. At your home, you can protect your kids by carefully cleaning their teeth, and by providing good options for meals and snacks that limit their sugar intake. You can also take care of them by bringing your children for pediatric dental appointments. These visits give you feedback about their development, which can lead to timely intervention and care when issues arise. We can also provide the appropriate restorative services when kids need work done due to dental decay.
Are You Keeping Up With Good Oral Health Habits?
If you do a good job protecting your smile, you can maintain more confidence in the way you look, and you can also have an easier time preserving your general well-being. The right habits include protecting your smile by seeing your dentist for regular preventive care. At appointments, we provide thorough cleanings as well as reviews that lead to the discovery and treatment of problems that put your smile in jeopardy.
Talk To Sunny Smiles To Arrange Dental Care For Your Family
Everyone in your family should have access to the right kind of oral health care. Sunny Smiles makes this easier by providing care for patients of all ages! Through regular preventive appointments, we can make sure everyone in your household maintains healthy, confident smiles. We can also provide the appropriate care whenever problems arise. To discuss routine support for yourself or a family member, or to address any other smile concerns, contact your El Paso, TX, dentists by calling us at 915-849-9000.