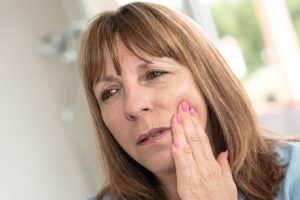 Are you looking for a way to relieve jaw pain? A persistent problem with stiffness, discomfort, and related pains in your face and head can interfere with your daily life and lead to no shortage of frustration. Fortunately, these issues are manageable. Through TMJ therapy, Sunny Smiles can help you put your problems with pain and limited movement behind you! Our practice can provide you with a custom appliance that eases the tension that you feel in your face, neck, and head by correcting problems with the alignment of your jaw. We also provide custom guards for patients who need to do something about nightly teeth grinding, something that can cause serious damage to your enamel.
Are You Experiencing Persistent Pain When You Move Your Jaw?
Proper jaw movement is important, as it limits the stress on your joints and muscles over time. If you have an imbalance in the way you open and close your mouth, you can create stress that worsens over time and leads to chronic discomfort. There are several reasons why people experience this problem. A past injury, problems with malocclusion (uneven teeth that affect the alignment of your bite), and problems with tooth pain or sensitivity can create painful problems with your dental health. Fortunately, in addition to recognizing when TMJ disorder is present in a patient, we can provide relief with a custom oral guard.
Looking Into TMJ Therapy
If you have persistent discomfort when you move your jaw, more frequent headaches, a habit of teeth grinding, or general jaw discomfort, it can be due to TMJ disorder. With oral appliance therapy, we can help you correct uneven movement and reduce the discomfort that you experience. As time passes, you can enjoy real relief as you improve your alignment and have less difficult movements. We can also use an oral guard to protect your smile if you grind your teeth at night.
Is A Problem With Your Bite Linked To An Issue With Your Tooth?
Some patients need additional dental work to truly maintain a comfortable bite. While dental decay can be the reason for your bite trouble, a past injury to a tooth can be responsible as well. In some cases, the difficulty can even stem from a tooth that is simply too small. In these situations, it can be beneficial to place a custom dental crown to keep a tooth safe, and to improve your dental function.
Talk To Sunny Smiles About The Benefits Of TMJ Therapy
Through TMJ therapy, we can help patients put problems with pain and sensitivity behind them. If you want to learn more about this and other beneficial services that we provide, please contact Sunny Smiles in El Paso, TX by calling 915-859-7000.