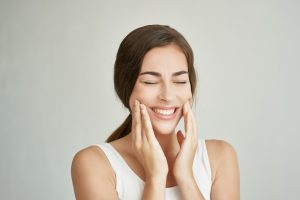 Sometimes, simple physical motions like biting, chewing, and speaking can become difficult. If you start to experience problems with joint stiffness and pain that interfere with your daily life, Sunny Smiles can work with you to put the matter behind you. Problems with stiffness, joint pain, and related difficulties with teeth grinding can occur because of TMJ disorder. Several factors can impact your risk for experiencing this problem. With that said, we can often resolve the discomfort with the use of a custom oral appliance that eases stress by positively changing the alignment of your jaw.
Stiff And Painful Joint Movement Can Become Difficult To Ignore
If your limited jaw movement becomes a recurring problem, it can be hard to doubt that something is wrong. People who suffer from problems with jaw stress, or poor alignment in their dental movements, can start to feel a stiffness that limits their bite function. They can also start to endure jaw pain, headaches, and other issues on a regular basis. Teeth grinding is another problem that can arise, one that can take a worsening toll on a person's smile. While there is no single issue that causes these problems to arise, the matter can often be addressed with a custom oral appliance.
What Causes TMJ Disorder?
There are many reasons why people start to experience problems with the alignment, health, and/or poor movement of their jaw. Sometimes, a tendency to grind your teeth can be the culprit. It can also become something to address after a physical injury, or as a consequence of using an uneven bite for an extended period of time. While there are different causes of this condition, it is often treatable via oral appliance therapy. With a custom guard, we can help you change the position of your jaw to ease tension on your joints and muscles, and to make it easier to maintain a natural bite.
Stay Informed About Your Oral Health With Regular Exams
Instead of waiting to see your dentist when something feels wrong, make sure you go in for your regular dental exams. These visits can actually lead to problems with TMJ disorder being identified, which can lead to timely intervention before the discomfort grows worse. Of course, we are also here to identify the early warning signs of tooth decay, gum disease, and any other issue that might hurt your appearance and well-being.
Talk To Sunny Smiles About TMJ Treatment
If you have stiff, painful feelings in your jaw that limit your movements, let your dentist know. This is one of the many problems someone affected by TMJ disorder can experience. Fortunately, the right approach to treatment can lead to more natural and comfortable movements, and to a reduction in stress and pain that affects your joints and muscles. If you would like to discuss TMJ treatment, please call Sunny Smiles at our N Zaragoza Rd location in El Paso, TX at 915-849-9000.