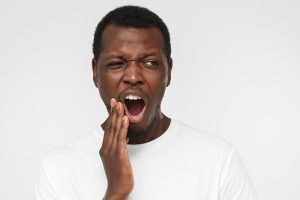 Beginning TMJ therapy means starting treatment for an issue that can cause you to feel pain throughout your day. Problems with the alignment of your jaw joints, or stress on the muscles and joints, can make it harder for you to avoid pain when you bite, chew, or speak. At Sunny Smiles, we can help you move on from this problem, and we can take care of related issues that you may have with teeth grinding and clenching. Oral appliance therapy can successfully ease tension on your joints and muscles, and it can help you hold your lower jaw in a more comfortable position to reduce stress and strain.
Is TMJ Therapy Something You Should Look Into?
People who struggle with TMJ problems can experience an increase in headaches, trouble with jaw grinding and clenching, and many difficulties with pain. There is no single reason for why someone will start to experience problems with TMJ disorder. It can occur because you have an uneven bite, due to problems with arthritis in your jaw joints, and other factors. While people find themselves in need of treatment for different reasons, we can often move forward with care by providing oral appliance therapy.
How An Oral Appliance Helps You Correct Problems With Your Jaw
With a custom-made oral appliance, we can ease the tension on your jaw and improve your bite movement. The guard is worn at night. While you rest, it helps you change the position of your jaw so that it remains more comfortable over time. When called for, we can also work with patients on changing their bite movement to lower stress on their joints and muscles. Another service that may be necessary is the restoration of teeth that are not providing adequate bite support, forcing you to change your jaw movement.
Appliance Therapy Can Also Address Bruxism
If bruxism—a tendency to grind your teeth at night—is not addressed, it can lead to alarming dental damage. Patients who wait too long to address this problem can require restorative dental work to address the harm done to their enamel. However, if you act in time, you can take home a custom guard that will allow you to sleep soundly without worrying about nightly grinding or clenching. For those who have dental wear and tear that affects their smile, we can review your options for cosmetic dentistry.
Talk To Sunny Smiles To Learn More About TMJ Therapy
Through TMJ therapy, we can put a stop to problems that you experience with chronic jaw pain and stiffness, as well as issues with headaches, teeth grinding, and more! To find out more about how we can take care of you, contact your El Paso, TX, dentists by calling us at 915-849-9000.