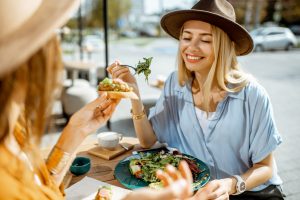 When you undergo restorative dental work, you should feel comfortable with both your appearance and your dental function. To make sure patients have the right kind of support, it is sometimes necessary to protect a tooth with a dental crown. When you turn to Sunny Smiles for help with your oral health difficulties, we can determine if a crown is needed. If so, we can provide one that is carefully constructed to remain secure and provide bite support. When you need work done on a tooth that is visible when you smile and speak, we can provide a restoration made to imitate your healthy enamel.

Lasting Protection For Vulnerable Teeth
Dental crowns provide protection for teeth that need more support than dental fillings offer. Whenever we provide restorative dental work, our goal is to take the most conservative approach possible. When we can, we will use fillings to address cavities—after decayed tissues are removed, we can apply a composite resin material to cover the damage and provide meaningful protection. However, when we need to do something more to preserve your oral health, we can use a crown to completely cover your tooth above the gum line. Before the restoration is put in place, we will take detailed measurements of your tooth to make sure we can receive one that is custom-made to provide full coverage without interfering with your neighboring teeth.
Problems That Call For The Placement Of Crowns
Dental decay is a common problem, one that does make restorative work necessary. However, this is not the only reason why a patient might come to us for support. A physical injury can also make care necessary; in some cases, patients may need help because an undersized tooth interferes with their bite function. In any of these situations, we can discuss treatment with a dental crown to keep your tooth safe and support your bite function.
Preventing Future Problems With Your Oral Health
Every time you see your dentist for routine care, you enjoy protection against the onset of a cavity. You also receive early warnings about any problems that already require treatment. When these problems are identified in time, it becomes easier for us to use more conservative dental fillings in treatment.
Sunny Smiles Can Restore Your Tooth With A Custom Dental Crown
Are you in need of treatment because of a dental injury, or due to concerns about a possible cavity? After a dental crown is placed, you can trust that your tooth will remain safe, and you can remain confident in your ability to apply pressure with it whenever you bite and chew. We can make sure you have the right support, and we can even provide a lifelike restoration to preserve your smile after care is provided. To find out more, please contact Sunny Smiles in El Paso, TX by calling 915-859-7000.