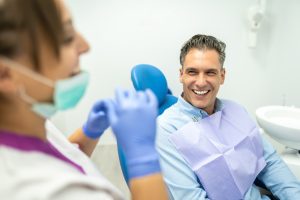 Through the care provided by a general dentist, you can protect yourself against more smile threats than you may realize. Regular dental exams are important because they alert you to problems with cavities, but they serve important additional benefits. For example, your appointments at Sunny Smiles also help you manage your periodontal health, something that will prove important for your overall health. We can also talk to you about issues we identify with excess tartar buildup, concerns about teeth grinding, and evidence of poor jaw movement that are linked to TMJ disorder. Remember that our practice is here to help individuals of all ages, which means we can provide important support for kids as well as adults!
Your General Dentist Can Address Many Different Smile Concerns
General dental appointments provide thorough oral health reviews, meaning they focus on more than just telling patients whether or not they have cavities. In the course of your review, we will look out for any symptoms of trouble or abnormalities that should be evaluated. Because of this, we can give you valuable feedback about the overall state of your smile. In addition to your reviews, you also receive thorough teeth cleanings that will remove harmful plaque and tartar deposits that make you vulnerable to future problems.
Evaluating Your Dental And Periodontal Health
We check on the condition of both your teeth and gums when you come in for a checkup! The evaluation of your teeth will lead to warnings about tartar, problems with tooth decay, or even issues with TMJ disorder and bruxism. What you should know is that reviews of your periodontal health are also important, and that they can yield timely warnings about problems that will worsen and become harder to treat if not resolved in time. Regular teeth cleanings make you less likely to experience trouble with gingivitis in the future. When it is called for, we will provide more involved cleanings that remove bacteria from below your gum line. Advanced gum disease makes you more likely to lose teeth, and it will also create potential issues with the management of other health concerns.
Addressing Problems That Arise And Require Care
Hopefully, your dentist will have no concerns about your smile that call for restorative treatment. In the event that you do require restorative dental work, know that our approach to care will look to minimizes changes to your tooth structure and preserve your smile. When we protect teeth with fillings or crowns, we use materials that can effectively imitate healthy enamel to avoid changing your appearance.
General Dental Care At Sunny Smiles Can Help You Keep Your Smile Healthy
A general dentist provides important services that help you preserve your healthy, attractive smile. If you need to schedule your next routine appointment, contact your El Paso, TX, dentists by calling us at 915-849-9000.