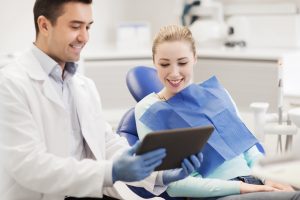 On a daily basis, you should take several steps to protect your smile from harm. Both brushing and flossing make up a beneficial hygiene routine. To further protect your teeth, you should make smart choices with your diet. Of course, routine daily maintenance is not always enough. You should schedule regular checkups with your dentist to make sure that your teeth are in good health. While Sunny Smiles is here to provide this kind of care, we are also here to support you when you need more than just routine support. Through both restorative and cosmetic dental services, we can help patients maintain smiles that they are proud to share with the world!
We Offer More Than Just Preventive Services
Preventive appointments are an important part of a commitment to smile health. At these visits, your dentist provides helpful warnings about problems with your teeth and gums, and you receive dental cleanings that help you control your risk for future problems. As beneficial as this kind of care is, we can provide more than just routine services to our patients. We can provide a range of restorative and cosmetic services that address active concerns you may have about your smile. When these problems are tied to poor oral health, we can provide the appropriate services to help you recover. If your interest is in correcting esthetic flaws, we can discuss your options for cosmetic dental work.
Taking On Problems With Your Oral Health
Oral health issues like tooth decay, gum disease, and dental damage should not be taken lightly. These issues will worsen if they are not properly managed, and that can carry serious consequences for your appearance and well-being. Through restorative dental work, we can address decay or a tooth injury. Depending on the severity of your cavity, we can use a filling or crown to provide the appropriate support. To help you recover from problems with your periodontal health, we can perform a deep cleaning to remove bacteria from beneath your gum line.
Discussing The Benefits Of Cosmetic Services
The reasons you are unhappy with your smile may not call for restorative work, but they can still make you self-conscious. Cosmetic dentistry takes on these issues by targeting flaws like discoloration, minor dental damage and wear and tear, and even issues with the shape, size, and alignment of teeth. Through the placement of porcelain veneers, we can take care of many flaws at one time, which can lead to exciting improvements!
Sunny Smiles Can Address Your Need For Smile Care
Through the right smile care, we can help our patients move on from oral health concerns as well as esthetic issues. If you want to know more about your treatment options, or if you are due for a routine visit, contact your El Paso, TX, dentists by calling us at 915-849-9000.