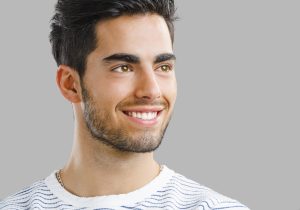 Would you rather continue to feel self-conscious about your smile or do something about the flaws that embarrass you? The right cosmetic procedure can provide exciting changes to the way you look. At Sunny Smiles, we can actually recommend a number of different treatments to people who want to improve their appearance. Different patients can bring up different concerns when they first inquire about cosmetic treatment. For some, the goal can be to correct problems caused by general wear and tear from years of use, or to address physical damage. For others, growing troubles with dental discoloration can be their focus. If you have several changes you wish to make, you can find that you may be able to address all concerns with just a single procedure!
What Would You Like To Change About The Way You Look?
The type of cosmetic dental procedure that is right for you will depend on what you want to change about your appearance. Someone who feels embarrassed by teeth stains can have different priorities than a person with a chipped tooth. We can make recommendations for treatment based on what issue, or issues, you bring up. For those who do have several concerns, we can review treatments that are able to address trouble with the shape, size, and color of teeth!
Addressing Damage Or Wear And Tear
Why do some people have more problems with dental wear and tear than others? It may be due to naturally softer enamel, or it could be connected to teeth grinding. If your teeth look misshapen, flat, or worn down for any reason, you can be eager for treatment. After all, these problems tend to make a person's smile look older, less uniform, and generally less attractive. We can take on these issues by providing porcelain veneers, which cover the front surfaces of teeth. When in place, your veneers can positively change your smile symmetry and tooth color as they hide wear and tear.
Services That Address Dental Discoloration
Dental discoloration can often call for teeth whitening treatment, but this approach is not needed in every case. We can recommend whitening treatments to those who wish to deal with enamel stains. For others, we can discuss treatment with veneers, or a tooth bonding procedure. These services hide problems known as intrinsic discoloration, which lead to changes within the tooth altering its color.
Schedule Cosmetic Dental Work At Sunny Smiles!
Sunny Smiles is ready to meet with you and discuss the benefits of different cosmetic procedures! With the right treatment, you can feel more confident in your smile and general appearance. We provide a range of cosmetic, restorative, and preventive services to individuals in and around El Paso, TX. Learn more by calling our Sunny Smiles office on Dyer St 915-859-7000.