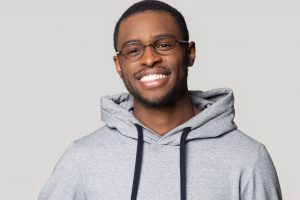 When you think about making cosmetic changes to your smile, you may worry that your goals are simply out of reach. What may surprise you is that a smile makeover, something that can take on several concerns, can require less time and fewer treatments than you expect! Sunny Smiles provides multiple treatment options for patients looking to improve the way they look. We can plan out care that puts your ideal smile within reach. One popular choice is to pursue treatment with porcelain veneers, which can address flaws like discoloration, dental damage, and even naturally occurring problems with tooth shape and size.
A Smile Makeover Can Take On Many Different Cosmetic Concerns
Your smile makeover will be planned around your specific goals and concerns. We can work out a plan that focuses on restoring teeth that look worn or misshapen; we can plan care to address naturally occurring problems with misaligned or misshapen teeth; and we can help brighten your smile color. By evaluating your current smile and discussing what you want from your cosmetic dental work, we can recommend an approach that provides lasting changes while minimizing changes to your tooth structure.
Arranging Your Cosmetic Treatment
Both porcelain veneers and tooth bonding and contouring services are able to transform your smile while only making conservative changes. Tooth bonding and contouring can improve your smile in as little as one appointment, and without the need for permanent restorations. Teeth are carefully reshaped and resized through in the contouring process, while a composite resin material can cover problems with the condition and color of teeth. Porcelain veneers require two appointments, and the procedure requires more preparatory work. With that said, veneers can offer more durability, making it easier to preserve improvements.
Restoring Vulnerable Or Damaged Teeth With Crowns
Dental crowns provide oral health benefits by covering teeth that are injured or affected by serious decay. In some cases, they are used to help patients interested in cosmetic treatment. By using them instead of veneers, we can change the appearance of your smile while also improving your ability to comfortably bite and chew. In addition to using crowns to support damaged teeth, these restorations can also help when undersized teeth negatively affect your dental function.
Talk To Sunny Smiles About Planning A Smile Makeover
Is a smile makeover within reach? Learning about the different services available at our practice can help you make the changes that give you your ideal appearance! We provide different treatment options that can help you address different concerns, and we can also provide ongoing oral health support to keep your teeth and gums in good condition. If you have questions or would like to learn more, contact Sunny Smiles in El Paso, TX by calling 915-859-7000.