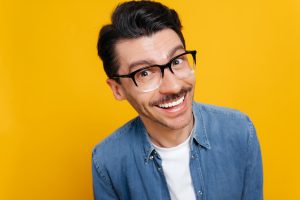 If cosmetic dental work is going to make significant improvements, the procedures you need must take a significant amount of time…right? What you can discover as you look into treatment is that a conservative treatment can have a remarkable impact on the way you look. One option is to arrange a tooth bonding and contouring procedure. At Sunny Smiles, we can carefully correct flaws by reshaping teeth, hiding blemishes and damages, and even changing their size to hide spacing problems. Because this work does not require permanent restorations that have to be custom-made, it can often be completed in as little as one visit.
Targeting Specific Flaws That You Want To Address
What kind of changes interest you? For some patients, dental discoloration is a real concern, while others are more worried about dental damage or wear and tear. Even if you have several issues with multiple teeth, you can move forward with a conservative cosmetic procedure that only requires minimal changes. In fact, we may be able to take on these concerns in as little as one procedure, putting you closer to dramatic changes than you think possible.
Moving Forward With A Tooth Bonding And Contouring Procedure
Tooth bonding and contouring work will carefully modify teeth that hurt the overall quality of your smile. The contouring process is effective at making larger or more jagged teeth look more attractive. The bonding process relies on a composite resin substance to hide flaws or, when necessary, address problems with teeth that are undersized. The material we use will become permanently affixed to your enamel, which leads to long-term benefits for your appearance.
Discussing Other Cosmetic Treatment Options
While porcelain veneers do require more preparatory work than tooth bonding and contouring, veneers offer more durability, which can make preserving your improvements easier. For someone who would prefer to make changes without modifying their tooth structure at all, we can provide teeth whitening treatments that help with deep and stubborn discoloration.
Some problems with your oral health can negatively affect the way you look. To address these issues, we can plan treatment around the placement of custom dental crowns. Lifelike crowns are available, so we can proceed with this treatment and still deliver meaningful smile changes.
Talk To Sunny Smiles About Tooth Bonding And Contouring!
Through tooth bonding and contouring treatments, we are able to deal with many different concerns that patients have about the way they look whenever they smile and speak. This approach makes big changes possible with conservative treatment that can be finished in as little as one visit. If you would like to learn more about this or any other cosmetic treatment we offer, contact your El Paso, TX, dentists by calling us at 915-849-9000.