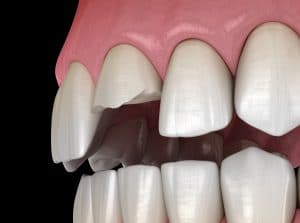 Do you have issues with the shape of your teeth, or some that appear overly large or pointed? If so, then your El Paso, TX, dentists will be able to transform your smile, possibly in one visit, with cosmetic bonding and contouring. When should you see us for treatment, and what should you expect from the bonding and contouring process?
The Dental Bonding and Contouring Process
Both of these options can be completed in one visit, and in fact, we can often perform both in the same visit. With dental bonding, we apply a metal-free composite resin to the teeth to reshape structure and mask cosmetic issues. We prepare the material to ensure it blends with surrounding tooth structure, and then we apply it in several layer after thoroughly cleaning the tooth. We sculpt the material as we cure it under a light. Finally, we polish the tooth to ensure a more lifelike appearance. With contouring, we gently buff and sand away small portions of outer structure to reshape the teeth and correct multiple esthetic concerns.
Esthetic Benefits
Bonding allows our team to lengthen teeth worn down by teeth grinding, repair minor chips and cracks, and close unsightly gaps between the teeth. We also mask permanent discoloration, and reshape malformed teeth as well. Contouring smooths away rough patches, pits, and grooves in the outer structure. We also repair minor chips, correct overly large teeth, and dull teeth that appear sharp or pointed. In one visit, we can correct a host of esthetic issues with the appearance, function, and health of your smile! Remember, even minor chips could potentially lead to decay and infection unless addressed in a timely manner.
Combination with At-Home Whitening
To ensure your repairs match your brightest smile, we may first perform teeth whitening to remove stains. We have an at-home option that uses trays and gel to break up stains and offer a smile that is several shades brighter. We could also reserve porcelain veneers for the front-facing teeth and use bonding and contouring for the side and rear teeth, providing a cost-effective smile makeover. The treatments we recommend will depend on the results of a thorough examination, in which we determine the best course of action and the best treatment options to improve smile beauty. If you have any questions about our approach to cosmetic dental care, then please contact our team today.
SUNNY SMILES IN EL PASO PROVIDES COSMETIC TREATMENTS
At Sunny Smiles in El Paso, TX, we use cosmetic dentistry not only to brighten teeth, but to reshape them and improve overall health and function too. For more information on our approach to cosmetic dental care, then contact our N. Zaragoza dental practice by calling 915-849-9000.