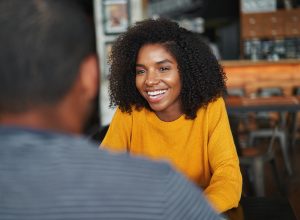 Whether you have issues with dental damage, concerns about naturally occurring problems with tooth shape or size, or feelings of embarrassment over enamel color, porcelain veneers can help you. At Sunny Smiles, we can recommend using porcelain veneers to cover up different dental flaws. By doing so, you can see remarkable changes in the way you look after just two appointments at our office. The custom restorations that we use to take care of your smile offer years of support, as they are remarkably durable despite their slim design. In addition to moving forward with treatment that relies on veneers, we can discuss alternative cosmetic procedures that are available to you.
What Veneers Do To Improve Smiles
Veneers work by covering the front surfaces of teeth in order to hide different problems like damages, blemishes, and other embarrassing flaws. Because they only require partial coverage, there is less preparatory work needed then if you had your teeth restored with crowns. Porcelain veneers are custom-made so that they can help give you your desired smile transformation, and so that they look natural and fit securely when placed on teeth.
Veneers Are A Long-Term Solution To Cosmetic Issues
When you discover how slim veneers are, you may worry that they will not hold up against the pressures created when you bite and chew food. You can be relieved to learn that they are constructed with a porcelain substance that is remarkably strong. Because this substance is so durable, and because you can count on your smile improvements to stay even after many years, you can look at this service as an effective long-term answer to your current cosmetic concerns.
Discussing All Of Your Cosmetic Treatment Options
There are several cosmetic dental treatments that we provide to our patients. Someone who wants to do something about discoloration may choose to move forward with a professional teeth whitening treatment. This approach to care relies on potent bleaching gels that address stains that are hard to manage when you only rely on store bought products. Another option for treatment involves both contouring the tooth to change its shape and size, and the bonding of a composite resin substance to hide damage, discoloration, and other concerns. One advantage to tooth bonding and contouring is that we can provide results in as little as one appointment for many patients.
Discuss Treatment With Veneers At Sunny Smiles!
Through treatment with porcelain veneers, we can take on many different cosmetic problems and give you lasting smile improvements to show off. If you would like to find out more about how we can take care of your appearance, and how we can take on any other concerns you have over your dental well-being, contact Sunny Smiles in El Paso, TX by calling 915-859-7000.