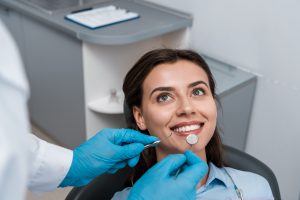 Are you doing enough to keep your smile clean on a daily basis? We need to maintain steady brushing and flossing routines to prevent the accumulation of bacteria and food debris, which can lead to the formation of plaque and tartar. If these substances build up and are not removed, they can cause issues with your oral health that require professional care. While your daily efforts are important, you are not the only person you can count on to protect your smile. At every routine dental exam, your teeth are professionally cleaned. This removes plaque buildup as well as any tartar deposits that have hardened in place. Sunny Smiles can meet with you to provide regular preventive support. When necessary, we can also take care of you if any active oral health problems call for our treatment.
What Are You Doing To Maintain A Healthy Smile?
On a daily basis, you should follow a routine that includes daily flossing and at least two brushing sessions. By doing so, you make sure that you consistently fight the accumulation of bacteria that can affect your smile by causing dental decay as well as gum disease. This is not all that you can do to protect yourself. A smart, low-sugar diet and plenty of water consumed throughout the day will also be beneficial. Even with these efforts, you should take advantage of the support that is provided to you at every routine oral health exam and cleaning.
Scheduling Your Regular Dental Exams
Patients are advised to come in for preventive services on a semiannual basis. We provide regular visits to patients of all ages, which means we can offer preventive dental care to adults while also providing beneficial pediatric dental appointments. Your dentist performs a thorough review to see if you have any issues that might call for support. This can lead to early intervention and treatment for a cavity, which protects you against complications that can make more involved services necessary.
Taking Care Of Your Smile Between Appointments
At every dental exam, you enjoy important preventive services that make you less likely to experience oral health problems. As reassuring as this is, you should make sure that you still commit to a smart oral hygiene routine at home to stay protected. In addition to brushing and flossing regularly, consider the following:
Make sure you replace your toothbrush when the bristles start to look worn, or after three months of use
Floss with a vertical motion that reaches the base of your teeth and gum line
Drinking water in place of soft drinks, sports drinks, and juices can help you avoid decay and dental discoloration
Confirm that you are using an ADA-accepted toothpaste that contains fluoride
Talk To Sunny Smiles To Schedule Your Next Teeth Cleaning
Our practice is ready to take care of you if you are due for your next teeth cleaning! To learn more about our services, contact Sunny Smiles in El Paso, TX by calling our Dyer St office at 915-859-7000.