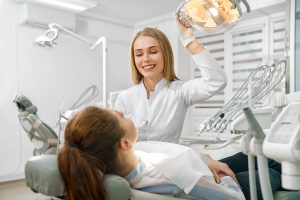 Root canal therapy deals with problems within your tooth structure. When a cavity is serious enough to cause an infection, or when an injury does damage to your pulp, this is an important procedure, one that puts a stop to discomfort and makes saving your tooth possible. You should look forward to being free of pain after your treatment, but if discomfort or other signs of infection persist – or if they return after a time, you should be concerned. Should this happen to you, it is important to note that Sunny Smiles is here to provide retreatment. What this means is that we can work on a tooth that has already undergone root canal therapy so that we can address a new problem, or one that was not fully resolved.
Can Root Canal Therapy Fail To Restore A Tooth's Health?
A successful root canal treatment will remove bacteria and infected tissues from the interior of your tooth before sealing this space and preparing you to receive a permanent restoration. Typically, this service fully resolves trouble you are experiencing, which allows you to move on with life. However, there are times when a person experiences discomfort after treatment, as well as situations where new problems may develop. Through retreatment, we can make sure your tooth is properly cared for and no longer vulnerable to problems.
We Can Provide An Evaluation And Follow-Up Treatment
By evaluating your tooth and making sure bacteria and damaged tissues are fully removed, we can make sure that you completely recover from your dental trouble. During retreatment, we will look out for issues like untreated damage, remaining signs of infection, or any other problems. Take problems after an initial treatment seriously, as a resolution to your new or continued difficulties will stop further discomfort, and it will keep you from losing your tooth due to poor health.
Regular Checkups Make You Less Likely To Need Root Canal Therapy In The Future
Through regular dental checkups, patients enjoy early intervention for problems with decay before they need to undergo root canal therapy. A cavity that is caught before this procedure is needed can be cared for with a dental filling. Upon placement, your custom filling can protect you against infection and support the surrounding enamel while still preserving your appearance.
Talk To Sunny Smiles About Scheduling Root Canal Therapy
Through retreatment, we can address any new problems after a past root canal, or persistent issues for a tooth that was not fully restored during an initial procedure. In addition to restoring active oral health problems, we can take on cosmetic concerns, and we can provide preventive care that keeps you from experiencing difficulties that require our services. To find out more, contact your El Paso, TX, dentists by calling us at 915-849-9000.