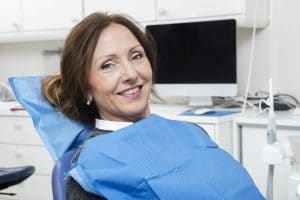 When advanced tooth decay or a dental injury creates an internal problem for a tooth, root canal therapy is performed to address the matter. This procedure will see your El Paso, TX dentist remove infected and damaged tissues as well as bacteria present in your pulp, the tooth's central chamber, before the space is sealed and secured by a custom dental crown. This is often all that it takes to fully restore the health of the tooth. However, there are some circumstances where restorative dental treatment might be needed after root canal therapy has already been performed. This can be to address an issue with infection that was not fully resolved in the first procedure, or to address a new injury. If necessary, we can perform dental retreatment for a tooth in this situation in order to fully resolve the issue.
How Worried Should You Be About Lingering Discomfort After A Root Canal?
Root canals lead to the end of dental discomfort by removing living tissues and bacteria responsible for an infection. Typically, a patient who goes through this treatment can have their ongoing discomfort stopped. If you still feel some pain or sensitivity that does not go away, or if pain returns after a period of time, it can be a matter to bring up with your dentist.
Scheduling Your Dental Retreatment
If we determine that a dental retreatment is necessary, we can make plans to access your pulp and remove any damaged tissues or bacteria still present. Once this work is done, we can carefully seal the tooth again before once again capping it with a crown. If you think that you might have a problem that calls for this procedure, make sure you say something. Ignoring the matter can allow the health of that tooth to worsen, which means more discomfort and risk for complications.
Make Sure You Stay Informed About Your Oral Health After Dental Work
Your routine dental examination includes a review of restorations that have been placed. A problem with a dental filling or dental crown can affect your dental well-being, so recognizing and treating issues early is beneficial. We will perform this review in addition to checking to confirm that your other teeth are still in good condition. Because your visits also include teeth cleanings that remove tartar, appointments also benefit you by making you less likely to need restorative services in the future!
Problem With A Tooth After Root Canal Treatment? Tell Your El Paso, TX Dentist!
Sunny Smiles is prepared to help restore the health of your tooth, even if that tooth has already undergone a root canal procedure in the past. If you have questions about dental retreatment, or about any other services that we provide, contact your El Paso, TX, dentists by calling 915-859-7000.