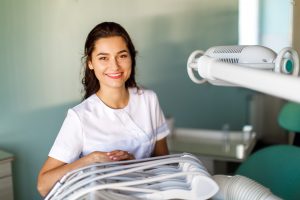 Can smile care really benefit more than just your smile? By taking good care of your teeth and gums, you can better protect your overall health. Gum disease can affect many people, but the condition can be addressed before there are complications that lead to long-term difficulties. However, when an infection does become too severe, it can become a difficult problem, one that can hurt your general health in several ways. Issues with cavities will also worsen in time if prompt care is not provided. Eventually, an infection will develop within the tooth, and that can lead to issues with pain, and it can eventually result in bacteria spreading to other areas to create new problems. Sunny Smiles is prepared to protect you against this and other problems that can negatively impact your quality of life when you see us for general preventive care!
Dental Care Helps You Maintain Your Overall Health
Your dental health can have more impact on your overall well-being than you anticipate. Problems with your smile can be caught and treated before you have to worry about complications. When it comes to restorative dental work, the earlier we identify decay, the sooner we can provide treatment to stop it from growing any more serious. For gum disease, we can provide a deep periodontal cleaning to remove bacteria before you have lasting troubles with poor periodontal health. When these oral health issues are not addressed in time, complications can occur that raise your risk for tooth loss, cause persistent discomfort, and even create complications that can affect your overall health.
What Kind Of Support Can You Expect At A General Checkup?
At every dental checkup, we provide important reviews that can detect problems requiring treatment, and we can provide thorough cleanings that lower your risk for new concerns. Teeth cleanings remove tartar and plaque so that the bacteria they contain cannot cause any more trouble for your smile. When your dentist evaluates you, they can let you know if more care is required. While it can be frustrating to learn that you need these services, timely intervention can prevent complications from occurring.
We Provide Preventive Services For Adults And Children
Your oral health is important at any age. Our office is here to help everyone in your household – in other words, we can provide preventive dental services for kids as well as adults. Pediatric visits can provide additional cavity protection as well as guidance to help our youngest patients learn to care for their teeth at home. The added support we provide can make it easier for them to develop good habits that they stick to in order to protect themselves when they are older.
Schedule A General Visit At Sunny Smiles!
Through regular visits to Sunny Smiles, you can make sure that your smile is being effectively cared for. Proper support can be more important than you realize, as oral health difficulties can create problems that affect more than just your smile! To find out more about our office and services, contact your El Paso, TX, dentists by calling us at 915-849-9000.