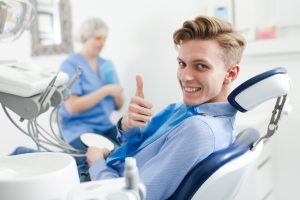 General dental appointments give you important updates about your oral health, provide early warnings about problems with your smile, and even help you avoid future issues. At Sunny Smiles, we meet with patients of all ages in and around our community who rely on us to help them keep their teeth in good condition. Between your exam and cleaning, you can feel more confident in your ability to maintain a healthy smile over time. Of course, we are prepared to step in when someone comes to see us about a possible dental concern, and we can recommend treatment if we identify a problem during a routine checkup.
Preventive Care Provides Important Smile Protection
While you should be committed to caring for your smile at home, you should also take advantage of the preventive dental services offered during every checkup. There are measures you should take on a daily basis to make sure that your teeth and gums are healthy. That means caring for your smile by brushing and flossing, but it also means protecting yourself with smarter dieting habits that limit your sugar intake. With that said, even if you do feel completely confident in your ability to protect your smile at home, you should have preventive services lined up. At these appointments, you receive important feedback and receive cleanings that deal with plaque as well as tartar buildup.
How Often Should You See Your Dentist?
Unless you have been told something different due to an existing oral health concern, you should commit to seeing your dentist on a semiannual basis for checkups. Consistency matters because it can provide you with early warnings about problems, and because your cleanings can take place before oral bacteria cause problems that make restorative dentistry necessary. These visits are important for patients of all ages, which means that everyone in your household should return for care every six months.
What To Expect If Your Dentist Identifies A Problem
In the event that your dentist notices a problem with your smile, what will happen next? For a problem like tooth decay, we can provide a dental filling or dental crown to protect your tooth and prevent further issues from damaging your enamel. A filling is the more conservative treatment approach, but a crown is capable of protecting a tooth damaged by an advanced cavity. If your problems are with your periodontal health, we can discuss different treatment options to help, including a deep cleaning to remove bacteria already under your gum line.
Sunny Smiles Can Provide Important General Dental Services
General dental services help you stay informed about your smile's health, enjoy early warnings when you need treatment, and provide you with more support overall to keep up with your dental well-being! To find out more or schedule an appointment with us, contact your El Paso, TX, dentists' office on N Zaragoza Rd by calling us at 915-849-9000.