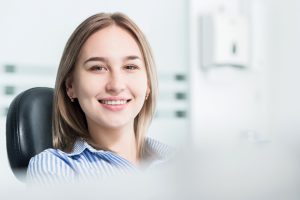 You should be able to leave your dentist's office after a dental exam without the need to arrange restorative work. When you keep your smile safe from harm between visits, the only future care you have to worry about is your next routine checkup! If you have a problem with dental decay – even if the cavity has only recently formed – you will need to plan restorative dental work. Sunny Smiles is prepared to take on your issues with dental decay when they arise. Through treatment, we can stop any further damage from affecting your enamel, and we can provide a dental filling or crown that will offer long-term support without changing your smile!
Do You Currently Have A Problem With A Cavity?
A cavity can form before you know that something is wrong. This is part of what makes your regular dental exams important – by going in even at times when you feel your smile is healthy, you can receive treatment for a problem that has recently developed. If you do need work done because of dental decay, your dentist will evaluate you to see what kind of procedure is needed to support your tooth and oral health.
Scheduling Treatment For Tooth Decay
Through the appropriate treatment, we can restore your tooth and oral health, which means you can leave your appointment confident that your smile is safe once again. The approach we take to restoring your tooth will depend on just how serious your cavity has become. Dental fillings protect teeth after smaller cavities are removed. When damage is serious enough, a dental crown will instead be used to provide effective support. A crown occupies more space, as it must completely cover your tooth above your gum line. By providing this protection, we can make sure that your tooth can safely remain in place, and that you have no troubles with your bite or oral health after a procedure.
When Is It Necessary To Address Decay With A Root Canal
It is important that we address an infection as soon as possible, as an unchecked spread of decay can lead to pain and sensitivity issues, and can even put you at risk for losing your tooth! Root canal therapy deals with problems within the tooth structure to protect you against advanced decay. After this procedure is performed, we will follow it by restoring your tooth with a crown.
Talk To Sunny Smiles If You Have Concerns About A Cavity
Through treatment to address a cavity, we can address a tooth's deteriorating health and preserve your smile. While we are ready to help if you grow concerned about dental discomfort and reach out for help, make sure you schedule preventive care regularly so that you can receive early warnings about a possible cavity. To find out more, please contact Sunny Smiles in El Paso, TX by calling 915-859-7000.