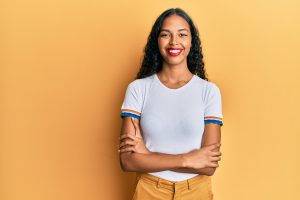 After a successful cavity treatment, you can be free of problems with your oral health. Will you also be free of issues with your smile? Patients who come to Sunny Smiles for restorative treatment can undergo dental care that preserves their appearance. We use fillings and crowns that are capable of matching the look of healthy enamel. In addition to preserving your appearance, these restorations will enable you to maintain your natural bite function, as your teeth will remain secure. In addition to helping patients who experience problems with their dental well-being, we are ready to help you and everyone in your family avoid oral health difficulties by providing preventive care.
Different Issues That Call For Restorative Treatment
Restorative dental work is often performed when patients have problems with cavities. Unfortunately, dental decay can do permanent harm to your smile, which can lead to issues with your bite function and health when not addressed. With that said, these services are also needed when physical trauma does more harm than we can address through cosmetic care. Any time a patient has a problem serious enough to warrant treatment, we can work with them to make sure their teeth are protected without changing their smile.
How We Protect Patients' Smiles While Addressing Their Oral Health Needs
The dental fillings and dental crowns that we use to restore teeth can imitate healthy tooth enamel. A filling made from composite resin imitates your tooth structure and also bonds with it. For a larger cavity, including one that makes root canal treatment necessary, we can use a dental crown to give you sufficient support. A crown envelops a tooth, capping it to keep it safe from damage as well as a new infection. Both porcelain and zirconia crowns match the look of healthy tooth enamel, with zirconia providing more functional strength to better protect teeth that absorb more bite pressure.
We Can Also Help You Avoid Future Problems
It can be a relief to see that your smile has not changed after restorative dental work. However, while the right procedure can prevent cosmetic issues, remember that any cavity that forms does permanent harm. In addition to protecting your smile at home, take the time to see your dentist for regular dental exams and cleanings. When you do so, you make future problems less likely to occur.
Talk To Sunny Smiles About Scheduling Restorative Treatment!
Through treatment for dental decay at Sunny Smiles, you can avoid problems with your appearance after a procedure. Our practice provides you with restorations that imitate enamel while providing important functional protection. To learn more about our restorative procedures, or to find out more about our general and cosmetic services, you can reach our Sunny Smiles office on Dyer St in El Paso, TX by calling 915-859-7000.