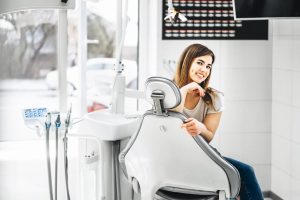 Why does restorative dental work call for the placement of a dental filling or crown to complete your care? These are needed because our teeth are limited in what they can do to naturally recover from harm. When a cavity forms, or when physical damage affects your enamel, it leaves behind problems that are permanent. Fortunately, the right restoration can provide functional protection and also preserve your appearance. When you come to Sunny Smiles with concerns about your tooth health, we can provide treatment that offers lasting support. When called for, we can provide that support with a custom dental crown that you can count on to stay secure, support your bite, and even imitate your healthy enamel!
Crowns Can Address Problems With Decay And Physical Injury
Dental crowns are effective for the treatment of physical trauma as well as care for advanced dental decay. Both issues leave a person with irreversible damage to their tooth structure. What a crown does is protect what remains by capping your tooth. To make sure there is space for your restoration, we can provide careful preparatory work to reduce its size. Once in position, a crown can keep a firm enough hold to provide functional support whenever you bite and chew, but it can do so without interfering with its neighbors. We can provide crowns made from different material types. When you need work done on a tooth that is more prominent when you smile and speak, we can recommend that you receive one made with a substance that can imitate your healthy enamel.
Restoring A Chipped, Cracked, Or Broken Tooth
Dental injuries can lead to serious oral health issues as well as trouble for your appearance and dental function. In many situations, a person whose tooth is broken will need to seek care as soon as possible. In this situation, we can work with you to provide emergency dental services. As part of your treatment to fully restore your oral health, we may need to perform root canal therapy. This will address internal damage as well as problems with an infection that may occur after the injury.
Using A Crown To Restore A Tooth Affected By A Cavity
A cavity can be caught and treated with a dental filling. A filling will only occupy the space where a cavity initially formed. What this means is that the healthy surrounding enamel is preserved. Why are fillings only used for some cavity treatments? Simply put, this type of restoration is not always able to support a tooth when decay has affected it. If too much damage occurs, treatment through root canal therapy and the placement of a crown can be necessary.
Talk To Sunny Smiles To Receive A Dependable Custom Dental Crown
Through the placement of a durable, lifelike dental crown, Sunny Smiles can make sure your tooth is safe after a problem with a cavity or physical injury. To find out more, contact your El Paso, TX, dentists' office on N Zaragoza Rd by calling us at 915-849-9000.