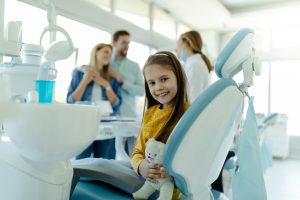 Does everyone in your family need the same kind of support from your dentist? While people of all ages can face many of the same oral health threats, you and your kids can require different approaches to care during routine dental exams. At Sunny Smiles, we are prepared to deliver meaningful support during routine dental exams as well as during pediatric appointments. You can count on us to help your kids learn the importance of good oral hygiene, and to make sure they are free from any developmental concerns that will have to be addressed. During your own visits, we can provide quality treatment in the form of cleanings and evaluations that protect you against tooth decay, gum disease, and other concerns.
Everyone In Your Family Should Have Access To Reliable Dental Care
Parents and adults have different needs from their dentist. In part, this is because kids have more to learn about the value of oral health care, and because they need to learn what they should be doing to protect their teeth and gums. It is also because kids are still growing, and it is important to track that development to make sure there are no problems that will require treatment. While kids may have different concerns that we can address at an appointment, this does not mean they are the only ones in your household who need to see someone for regular care! During your own routine dental exams and cleanings, you receive important feedback about the quality of your smile, as well as warnings about problems like TMJ disorder and bruxism, which can negatively affect your quality of life.
Caring For Kids During Pediatric Exams
For their earliest pediatric dental appointments in particular, it is important that kids have access to quality care in a friendly and supportive environment. Starting with their initial visit, we can make sure that they feel secure, that they are familiarized with their surroundings, and that treatment prioritizes their comfort. As they age, kids can start to receive support that looks more like adult preventive care. With that said, we still work with them as individuals to make sure they have the kind of care that keeps them healthy and ensures they can care for their teeth effectively between appointments.
Scheduling Your Own Dental Visits
You may have an easier time maintaining your oral hygiene routine than your kids, and you can have more restraint when it comes to eating sweets, but that does not mean you have nothing to gain from preventive care! You should go in to see your dentist on a semiannual basis to make sure there are no problems with your smile, and to have any tartar and plaque buildup present on your smile removed.
Bring Your Family In For Care At Sunny Smiles!
Our practice is here to help El Paso families ensure that everyone in their household can show off stunning, healthy teeth when they smile! For more information, please contact Sunny Smiles at our Dyer St office in El Paso, TX by calling 915-859-7000.