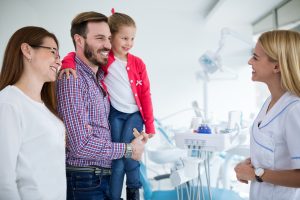 If you can find one dental office that is prepared to help everyone in your family with their oral health needs, you can make planning trips to the dentist easier. After all, when you have one location that can serve everyone, routine trips for checkups and cleanings will be more convenient because you can book care for yourself and family members. You can also feel more comfortable starting dental care for your kids at a practice you have been able to count on for your own smile care needs. Sunny Smiles is proud to offer both adult dental services and pediatric dental care. Because we are able to see full families in and around the El Paso, TX area, we can make arranging dental care easier for you!
Everyone In Your Family Should Have Access To Dependable Oral Health Care
While parents and adults do have different needs from their dentist, it is important that patients of all ages take their smile care seriously. At any age, you can experience trouble with dental decay that puts you at risk for oral health complications. For kids, cavity problems can affect their development and create more problems for their smiles over time. For adults, problems like advanced tooth decay, TMJ disorder, and more can negatively impact your general and dental well-being, and can also cause you to experience persistent pain.
Scheduling Checkups For Your Kids
Once their teeth begin to arrive, kids will be vulnerable to cavities. While parents are responsible for protecting them on a daily basis, children also benefit from regular pediatric dental appointments. At these visits, we can make sure that their teeth are healthy, and that their oral structures are developing properly. If necessary, we can alert you to early signs of trouble so that we can provide treatment at the appropriate time. We can also offer your child guidance as they start to learn how to brush and floss on their own.
Arranging Your Own Routine Checkups
You should continue to schedule your own routine dental exams and cleanings. Even if you feel confident in your smile care routine, problems can arise that hurt your smile and oral health, and that can make prompt care necessary. By neglecting your own appointments, you can give a cavity time to worsen, and that can lead to a painful infection that has to be addressed through a root canal procedure. We also address other issues that can arise over time, such as difficulty with jaw pain and stiffness brought on by teeth grinding or problems with joint alignment.
Bring Your Family For Dental Care At Sunny Smiles!
Sunny Smiles is ready to meet with patients of all ages! To schedule dental care for yourself, and for your family, please call our dental practice at our Dyer St location in El Paso, TX at 915-859-7000.