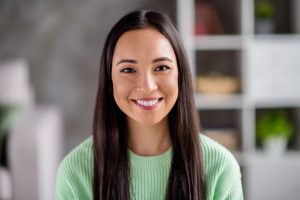 Even if your teeth are healthy, you may want to do something about the way you look when you smile. For many people, cosmetic dentistry provides an opportunity to address issues around discoloration, problems with your smile alignment, or even issues with excess or uneven gum tissues. Sunny Smiles provides different solutions for patients who bring up problems they have with their smile. By offering different treatment options, and by working with individuals to help them reach their smile goals, we can deliver exciting results with a conservative approach. With as little as one procedure, we can take on multiple concerns that you have about the way you look.
What Would You Like To Do To Change Your Smile?
Many people will bring up an interest in enjoying a smile makeover, and their reasons for wanting one will vary. Problems like malocclusion (poor alignment), discoloration, trouble with damaged or worn teeth, and more can make people anxious about the way they look. Whether you have concerns about one of these problems, or several, you can find that the right cosmetic dental procedure is available. What you can also learn is that a cosmetic dental treatment can take on several problems at one time, which makes ambitious corrective work more accessible than you initially expect.
Discussing Cosmetic Treatment Options
There are several procedures that we can recommend when someone comes to us with concerns about the way they look. One option actually focuses on esthetic issues with your gums rather than your teeth. Through a gum contouring procedure, we can reveal more of teeth that look short or squat, and we can make your smile appear more uniform. We can also take on problems with damaged, discolored, or misshapen teeth through tooth bonding and contouring work. Bonding and contouring services are often performed together, and for many people results can be available after just one appointment!
Combining Restorative And Cosmetic Care
For some, a combination of cosmetic and restorative dental work can deliver the ideal smile improvements. For someone who has lost teeth, or one who has a problem with damage or decay, work to address active oral health issues can precede a treatment that focuses on smile improvements. After an evaluation, we can tell you if this is necessary, or if we can focus solely on work to make changes to your appearance.
Talk To Sunny Smiles About Cosmetic Dentistry And Your Smile Goals
Through the right cosmetic procedure, we can help you take on frustrating smile flaws that make you self-conscious. You can be delighted to learn that just one procedure is all that it takes for you to see truly stunning improvements! To find out more about how we can help you, please contact Sunny Smiles in El Paso, TX by calling 915-859-7000.