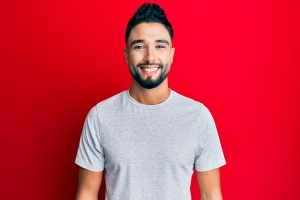 Many people who want to make significant changes to their appearance may believe that the right approach to cosmetic treatment will be long or involved. It can be exciting to show off a smile makeover, but you can talk yourself out of even considering a procedure if you worry about what it will require. Sunny Smiles can make exciting changes more accessible than you expect. With the right cosmetic dental procedure, we can take care of multiple cosmetic flaws with as little as one procedure! Your treatment can give you a brighter smile, one that appears healthier and more symmetrical. If necessary, we can identify flaws that are the result of poor oral health and recommend the appropriate restorative dental treatment.
How Would You Like To Change Your Smile?
While some people have a single specific change they want to make – for example, someone may come in to discuss restoring a single injured or misshapen tooth – others can have several issues. Problems with your appearance can develop and worsen over time because of enamel erosion, wear and tear on teeth, and the buildup of stains. For those who have several concerns, or who wish to restore multiple teeth, cosmetic treatment can feel out of reach. As you look into your options, you can find that a single procedure is often enough to make many changes.
You Can Make Many Changes With Just One Treatment!
One option for patients who want exciting improvements is to receive porcelain veneers. When veneers are affixed to your teeth, they make significant changes by making positive changes to tooth shape, size, color, and even alignment! Veneers only call for a conservative change to your tooth structure. These thin, durable shells are only affixed to the fronts of teeth, so the remaining structure is not modified. We can also talk to you about tooth bonding and contouring treatment, an approach to cosmetic work that can make similar improvements and may require just one appointment!
Will You Need Restorative Work To Complete A Smile Makeover?
If you have problems with teeth that are physically damaged, or teeth that generally in poor health, we may recommend treatment with dental crowns. Crowns can imitate the look of healthy, natural teeth, so their placement can have esthetic benefits. These restorations can be recommended instead of veneers or tooth bonding treatment because they do more to both protect vulnerable teeth and provide more biting and chewing support.
Start Discussing A Smile Makeover At Sunny Smiles!
At Sunny Smiles, we are ready to help patients see exciting smile improvements! You may be able to take on several flaws by agreeing to just a single cosmetic procedure! To find out more, contact Sunny Smiles at our N Zaragoza Rd location in El Paso, TX by calling 915-849-9000.