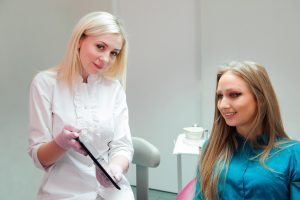 How many times should you visit your dentist in a typical year? Unless told otherwise by your dentist, you should have appointments set at six month intervals. Scheduling these procedures consistently lowers your risk for problems that will require treatment, and it also leads to the early discovery of problems that can be addressed before there are complications. Sunny Smiles makes dental care available to people of all ages in and around the El Paso, TX area. We can provide a thorough teeth cleaning as well as an evaluation for a range of concerns. To make appointments more accessible, our practice is open on Saturdays!
Are You Past Due For A Dental Checkup?
If you put off preventive dental care, you can have a more difficult time preventing problems with your oral health. You can also have an issue like tooth decay or gum disease develop and worsen without realizing it, which leads to complications and the need for more involved care at a later date. Both your hygienist and your dentist will help you with smile care. While your dentist performs the review to determine if restorative services are needed, your hygienist removes bacteria in the form of plaque and tartar to protect you.
Your Hygienist Can Remove Tartar From Your Teeth
Tartar removal is important, but unfortunately it is not something that you can do for yourself. You can fight plaque buildup to prevent tartar – a consistent brushing and flossing routine helps with this. With that said, tartar can form even when people have a thorough routine in place. By removing these deposits, your hygienist helps you avoid problems that they can cause over time. Without this support, you have more vulnerability to dental problems that can make restorative dental work necessary.
When Your Dentist Identifies A Cavity
Hearing that you have a cavity can be unpleasant, but it is better to learn something is wrong at an appointment than wait until advanced decay becomes too painful to ignore! Early intervention with a dental filling will restore your tooth's health and protect you against the accumulation of bacteria at the site of decay. Our practice uses a lifelike material to match the appearance of your enamel, so this work will not change the way you look.
Schedule A Dental Checkup At Sunny Smiles!
If you are past due for your next dental checkup, you can be more vulnerable to dental problems than you realize! Fortunately, you can find it easier to make time for treatment at Sunny Smiles, where we offer accommodating hours and Saturday appointments. If you would like to learn more, or if you wish to set up an appointment for yourself or a family member, contact your El Paso, TX, dentists' office on N Zaragoza Rd by calling us at 915-849-9000.