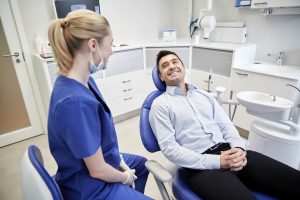 Are regular dental exams part of your routine or protecting your teeth? If not, you can lose out on important protection against problems like dental decay and gum disease. Unless your dentist identifies a reason for you to do different, you should plan on scheduling dental checkups every six months. Sunny Smiles provides important preventive care for kids and adults, so we can help everyone in your household take care of their smiles. Your visits include protective cleanings to remove tartar and plaque, as well as thorough reviews to identify any signs of trouble that might call for attention.
Falling Behind On Dental Checkups Puts Your Smile At Risk
If you are not taking care of your smile by seeing your dentist for regular checkups, you can become vulnerable to problems that can turn severe. Early intervention for problems like tooth decay and gum disease can stop you from experiencing complications that can cause discomfort, raise your risk for tooth loss, and create additional concerns. In addition to catching issues before they become severe, you can enjoy protection in the form of a teeth cleaning to remove plaque and tartar that hurt your oral health.
What Takes Place During Your Typical Checkup?
During your appointment, your dentist will carefully evaluate your teeth and gums to look out or any issues that might need treatment. Detailed reviews can identify problems before they begin to cause uncomfortable symptoms. Restorative dental work to deal with a small cavity can prevent a problem with an infection, and preserve more of your healthy tooth structure. By addressing gingivitis, you can avoid complications from more advanced gum disease. Teeth cleanings remove plaque and tartar buildup that can form between visits. Tartar removal is particularly important, because you are not able to take care of buildup on your own.
We Also Provide Preventive Care For Kids!
Preventive dental care benefits us at an early age. Kids rely on their parents for oral health support, but their dentist can also help them maintain healthy teeth. During pediatric dental exams, we monitor a child's development and provide guidance to them about how they should take care of their smiles on their own. The right experience at an early age can help kids learn how to do a better job taking care of their teeth as they grow up.
Schedule A Dental Checkup At Sunny Smiles!
Is it time for your next dental checkup? If so, our practice is ready to meet with you and provide important care to protect you from threats like tooth decay and gum disease. Because we offer services for adults and kids, we can help everyone in your household stay safe from dental problems. To find out more about how we can take care of everyone in your family, contact Sunny Smiles in El Paso, TX by calling 915-859-7000.