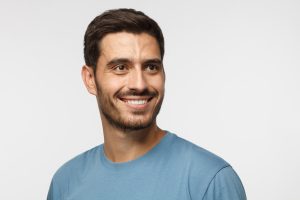 Is your smile starting to look dull in pictures and when you check your reflection? You may assume that the problem is connected to teeth stains you have picked up over time. Problems with discoloration are often stain-related, but there are times that internal issues affect you. To address this, you may need something other than a teeth whitening treatment. Sunny Smiles can help you deal with intrinsic discoloration by providing porcelain veneers, a set of slim, custom-made restorations that take care of many different issues at one time. They can help you show off a brighter smile while they also hide problems with dental damage, or issues with misshapen or poorly sized teeth.
Discoloration Can Be Linked To More Than Just Stains
If your teeth look dull or discolored, it would seem that a teeth whitening procedure is the right one for you. Many people experience problems with teeth stains due to the buildup of particles from different foods and drinks they consume. This is an issue known as extrinsic discoloration. What some patients experience is a problem within their tooth structure that affects their smile color. This problem, intrinsic discoloration, can call for something other than a whitening procedure. If you are looking for a way to address this issue, we can discuss the advantages of treatment with porcelain veneers.
Using Veneers To Address Your Cosmetic Flaws
Porcelain veneers are thin shells that cover the front surfaces of your teeth. When they are in place, they will hide discoloration even when it is linked to internal issues. These restorations are also good for treating problems with dental damage and naturally occurring flaws that make you self-conscious. These thin restorations can be designed and placed in the course of two appointments, which can give you a confidence boost by dramatically changing the way you look.
Other Treatment Options For Those Interested In Cosmetic Work
For many people, teeth whitening treatment will be an effective means of treating discoloration. We can evaluate you to see if you might benefit from this or treatment with veneers. We also provide positive smile changes in the form of tooth bonding and contouring work, which can directly target flaws and make improvements in as little as one appointment!
Talk To Sunny Smiles About Receiving Porcelain Veneers
Through treatment with veneers, we can help you take care of many different cosmetic concerns, including intrinsic discoloration. We are ready to help you deal with a range of concerns that you might have about the color, shape, and size of teeth. We also provide services to address ongoing oral health concerns that you might have. To find out more, contact Sunny Smiles in El Paso, TX by calling 915-859-7000.