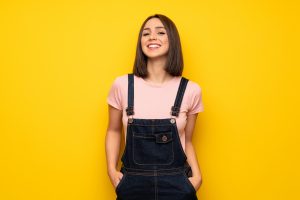 Dental discoloration can make people perceive you as older, less attractive, and even less healthy. Visible flaws can make you unhappy with your smile, even if you have taken care to protect yourself against problems that call for restorative dental work. At Sunny Smiles, we provide multiple cosmetic dental procedures that can brighten teeth. You may be surprised to hear that more than one procedure is offered for patients affected by dull or discolored teeth. While a professional teeth whitening treatment is effective at helping those with teeth stains, some patients need help to treat internal tooth problems that affect their smile color. For these individuals, we can recommend other services, such as treatment with porcelain veneers, to improve their appearance.
Are You Affected By Teeth Stains Or Internal Discoloration?
Teeth stains are a common issue, one that can be tough to completely avoid. Because so many popular products can leave particles on our enamel that cause stains to form, it can be tough to keep teeth as white as we might like. With that said, a buildup of stains over time can lead to noticeable changes that cause feelings of discomfort and embarrassment. Unfortunately, stains that have built up can be difficult to address with store bought products.
Intrinsic discoloration can have several causes. It may be the consequence of a dental injury, or due to problems with enamel erosion. Discoloration sometimes occurs after the use of certain medications. If these problems affect you, we can discuss other forms of cosmetic dentistry that can help you.
Using A Professional Teeth Whitening Treatment To Brighten Your Smile
Professional teeth whitening treatment relies on bleaching agents that are strong enough to remove stubborn, persistent stains that have gathered on your enamel. We provide personalized whitening kits that our patients are free to use in the comfort of their own home. Rather than ask them to schedule appointments, we provide the freedom to address stains at your convenience. These kits include effective whitening agents as well as trays that make their application easier.
Addressing Intrinsic Discoloration
Tooth bonding treatment and porcelain veneers are effective at covering intrinsic discoloration. Veneers are customized shells that cover the front surfaces of teeth. Their design will be based on measurements of your teeth, which ensures that they look natural and fit comfortably when placed. Tooth bonding treatment involves an application of a composite material to hide issues with discoloration.
Discuss Treatment For Dental Discoloration At Sunny Smiles!
Sunny Smiles is ready to take on problems that you have with the color your smile. If you wish to learn more about our practice and services, please call us at our El Paso, TX dental office on Dyer St at 915-859-7000.