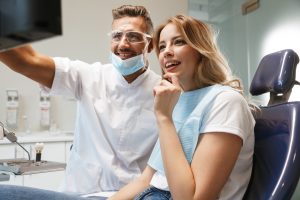 Choosing to ignore the pain radiating from your tooth can feel like the more convenient choice. After all, you may feel that your schedule is packed enough without trying to make time for a trip to the dentist's office! With that said, this is a decision that can lead to more unpleasant consequences than you may anticipate! One issue is that you have to spend more time feeling uncomfortable. Another is that the problem you ignore could be serious, and may already require involved restorative dental work. Sunny Smiles is prepared to see you and deal with your toothache before your oral health worsens.
Ignoring A Toothache Means Ignoring A Potentially Serious Dental Problem
Has your tooth been in pain for an extended period of time? Is the pain growing so serious that you have trouble focusing on anything else? When a toothache causes significant pain, or when it does not subside after a longer period of time, it can be a warning that something is seriously wrong. You may need advanced restorative dental work to stop the problem causing your discomfort. If you do not schedule it in time, the problem can grow progressively worse, and that can lead to alarming consequences!
Arranging Treatment To Deal With Pain
An infection can cause you to experience significant pain. Infections occur when a cavity progresses to the point where bacteria can attack your pulp, the central chamber of your tooth. This problem can also occur after a physical injury. In time, those bacteria accumulating in your pulp will spread through the roots of a tooth and lead to more health troubles and make extraction necessary. By bringing your concerns to your dentist's attention, you can undergo root canal therapy before this happens. During the root canal, your dentist will carefully remove bacteria and infected tissues from within the tooth structure to stop the spread of decay. After this is finished, we can cap your tooth with a custom crown to make sure that it stays safe and supported.
Stay Current With Your Regular Dental Exams
At regular dental exams, patients receive timely warnings about problems that could turn severe if not addressed in time. If you learn of a cavity during a routine checkup, you can undergo treatment with a dental filling before there are complications that cause you pain! This is a more conservative treatment approach that preserves more of your structure.
Talk To Sunny Smiles About Your Toothache!
Your toothache is not something you should ignore! The longer you put off an appointment, the more severe a problem with your dental health can become. Our practice is here to take care of you if you have issues with your toothache. To learn more, contact your El Paso, TX, dentists at our N Zaragoza Rd location by calling 915-849-9000.