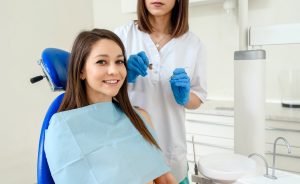 Your dental enamel is strong enough to withstand bite forces for many years. Because of this, we can enjoy a wide-ranging and nutrient-rich diet, as we can break down tougher foods without difficulty. With that said, our teeth are vulnerable to harm, particularly when we do not keep up with good oral hygiene efforts. Your daily efforts to brush and floss remove harmful microbes from your smile to prevent the onset of dental decay. In addition to this support, you can receive important care in the form of professional cleanings provided at regular dental exams. Sunny Smiles can meet with you regularly to protect your smile, and help you avoid the consequences of poor oral hygiene!
The Tartar And Plaque On Your Teeth Make You Vulnerable To Oral Problems
The accumulation of plaque and tartar on your teeth can make you vulnerable to the onset of dental decay. On a daily basis, you protect your teeth and gums by brushing and flossing. This removes the accumulation of bacteria and food debris. Unfortunately, your daily efforts are not as effective when it comes to removing tartar. Tartar formation occurs when plaque deposits harden on your teeth. After hardening, a deposit will resist removal by you – fortunately, a scheduled teeth cleaning can help!
Scheduled Teeth Cleanings Remove Plaque And Tartar
Your hygienist provides thorough care for your smile by removing any plaque and tartar buildup identified during a review. The removal of harmful substances lowers your risk for dental decay and gum disease. A standard teeth cleaning will fight the accumulation of deposits on teeth above your gum line. For someone who shows signs of gingivitis, we can recommend a deeper periodontal cleaning that removes bacteria that are present beneath your periodontal tissues.
Caring For Your Smile Between Appointments
As reassuring as it is to know that a thorough teeth cleaning awaits you at your next exam, you should still have a consistent oral hygiene routine in place to protect yourself against cavities and periodontal problems. That routine should see you brush your teeth at least twice a day, and it should involve flossing at least once. Remember to be thorough with these habits at all times, as this helps you protect areas of your smile that are difficult to access.
Talk To Sunny Smiles To Schedule Your Next Teeth Cleaning
A dedicated teeth cleaning performed during a dental checkup removes plaque and tartar to help you fight the onset of cavities and gum disease. Make sure you have regular checkups in place to protect yourself, and to receive early warnings about trouble with your oral health that can call for treatment. To find out more, or to set up an appointment, please contact your El Paso, TX, dentists' office on N Zaragoza Rd by calling 915-849-9000.