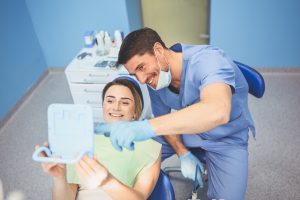 There are potentially serious problems that can affect your smile over time if you are not consistent about scheduling preventive dental care. While a cavity can be caught and treated early, decay can become a source of discomfort and a threat to your smile if the problem goes unaddressed. You can also have a more difficult time fighting gum disease if you have not been regular about your exams. Sunny Smiles can certainly help you deal with these issues when you come in for a routine dental checkup. With that said, these are just two of many concerns that you can discuss with us. We can help you keep your smile safe by providing timely care at your regular appointments, and we can make time for you if a problem arises between planned visits.
Don't Be Shy About Discussing Possible Oral Health Issues At Your Checkup
Simply put, if you think that something might be wrong with your oral health because of pain, or because of a visible change in your smile, make sure you discuss it with your dentist! While we do provide comprehensive reviews during dental exams, and we can actually spot problems that you may overlook, we want patients to feel comfortable enough with us to share what their concerns are. You may find that an issue is less serious than you feared. On the other hand, you may discover that a "minor" problem you are trying to ignore is a warning sign of trouble that should be promptly addressed!
Discussing Problems With Painful Or Limited Bite Movement
If you are no longer able to bite, chew, or speak comfortably because of jaw trouble, we can help! Through TMJ treatment, we can identify problems with uneven or awkward movements that cause tension to build and affect your joints and muscles. Oral appliance therapy relies on a custom appliance that changes your jaw's resting position so that we can reduce stress and strain. If called for, we can also talk to you about signs of nightly teeth grinding, or bruxism, which is often associated with TMJ difficulties.
Addressing Concerns About Your Current Oral Hygiene Routine
Your questions for your dentist may have less to do with active problems and more with concerns that you could be doing more for your smile. If you think that your current routine is not effective enough, we can help you make productive changes. By doing so, you can more effectively prevent tartar from forming, and you can reduce your risk for future cavities or problems with gingivitis.
Schedule Your Next Dental Checkup At Sunny Smiles
Through regular appointments at Sunny Smiles, you can keep your smile in good health! To find out more, or to arrange your next visit, please contact Sunny Smiles in El Paso, TX by calling 915-859-7000.