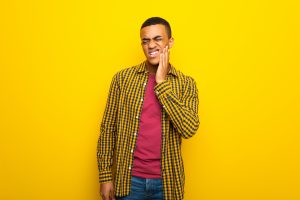 You can quickly become fed up with TMJ disorder – when it is not addressed, this condition can make biting, chewing, and speaking difficult due to feelings of stiffness and pain. What can you do to resolve this issue and put your discomfort behind you? Sunny Smiles provides help for patients who show signs of this condition. With a custom oral appliance, we can help you change the position of your jaw to ease tension and reduce stiffness and pain when you move your jaw. If we identify problems with teeth that cannot adequately absorb bite pressure, we can recommend restorative treatment to improve your oral health and bite.
How Often Do You Experience Issues With Jaw Pain?
Is pain a daily problem when you bite and chew? How often do you experience issues with discomfort or stiffness that limit your jaw movements when you speak? These issues should not be a part of your daily life. If they are, it can point to a problem with TMJ disorder, one that you should bring up to your dentist. Stress and poor joint alignment can make basic dental functions harder to perform, and they can lead to increasing discomfort that can disrupt your quality of life!
Beginning TMJ Treatment With An Oral Appliance
Better joint alignment can lead to less painful jaw movement, which can ease stiffness and pain when you bite, chew, or speak. A custom appliance provided at your dentist's office can keep your jaw in a more comfortable position throughout the night. A comfortable oral appliance can also help you deal with pain and dental damage caused by nightly teeth grinding. When not addressed, this issue – known as bruxism – can cause alarming damage to your enamel!
Has Poor Oral Health Affected Your Ability To Bite And Chew Comfortably?
It can become difficult to maintain an even bite if you are favoring a certain side of your mouth when you bite and chew. To address this imbalance, it may be necessary to restore teeth that are in poor condition. Dental crowns can lead to beneficial bite improvements. Capping teeth that are damaged, too small, or in poor health can make it easier to apply pressure that used to cause discomfort. If you need a crown to cover a tooth that is more visible when you smile and speak, you can receive one made from material that can imitate your healthy enamel.
Talk To Sunny Smiles To Start Planning TMJ Therapy
Sunny Smiles is prepared to help patients who struggle with pain and stiffness when they bite, chew, and speak because of unresolved TMJ problems. To find out more about how we can help you with this issue, please contact your El Paso, TX, dentists' office on N Zaragoza Rd by calling 915-849-9000.