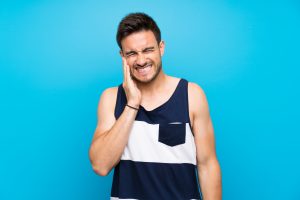 If you lose the ability to bite and chew without discomfort, or if you start to feel persistent jaw pain, facial pain, or headaches, tell your dentist! Issues with jaw stiffness and pain can lead to further trouble with teeth grinding and also stop you from biting and chewing in a way that feels natural. Sunny Smiles is able to address discomfort that is linked to problems with your jaw movement and alignment. With treatment, we can address uneven joint movement as well as difficulties with your oral health that may have impacted your bite.

How TMJ Problems Affect Your Quality Of Life
TMJ problems occur when you have unresolved problems with your jaw movement. If your joints are not in alignment, biting and chewing can cause stress to affect the joints themselves and your muscles. This problem can also limit your movement, and it can create problems with pain and sensitivity in your face, neck, and head. Bringing up concerns around frequent headaches, bite limitations, and other signs of TMJ disorder with your dentist can lead to beneficial care.
Using An Oral Appliance To Improve Your Bite
Through the use of an oral appliance to correct your jaw alignment and movement, we can improve your bite function, ease problems with chronic pain, and generally improve your quality of life. The appliance is carefully designed so that it fits securely and makes the right corrections to movement and alignment. We should note that our practice can also provide an appliance to help you with related teeth grinding problems. Teeth grinding can occur more frequently at night because of your jaw trouble, and that can lead to more stress as well as dental damage.
Restoring A Problem Tooth Can Improve Your Bite
You may have a hard time applying and releasing bite pressure evenly because of one unhealthy tooth, or several that are not in good condition. By addressing these issues with custom crowns, we can take care of you so that that biting and chewing is no longer difficult. If you have a problem with a tooth that is more prominent whenever you speak and smile, you can address the matter with a restoration that imitates healthy enamel.
Talk To Sunny Smiles About TMJ Treatment
Is it time for you to look into TMJ treatment? At Sunny Smiles, we can help you if you struggle with pain whenever you bite and chew, or when poor joint alignment leads to headaches and other difficulties that affect your quality of life. An appointment can lead to beneficial care with a custom oral appliance, and if necessary we can also restore teeth that are not contributing enough to your bite. For more information, contact your El Paso, TX, dentists' office on N Zaragoza Rd by calling 915-849-9000.