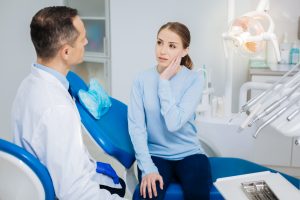 Tooth pain can quickly take over your day by disrupting your ability to focus on much beyond your own discomfort. It can certainly interfere with your ability to eat and drink, and it can make you all too aware of your need to see your dentist as soon as possible. However, you may have one question – can you schedule emergency dental work because of dental pain? Sunny Smiles wants patients to know that they have access to urgent care whenever they might need it. We can bring you in to discuss problems with pain as well as issues with damaged, loosened, or lost teeth. Our approach to restorative care can provide important relief while still taking care to preserve your tooth's appearance.
Tooth Pain Is A Problem That You Should Take Seriously
If you start to experience a worrying amount of tooth pain, you can reach out to schedule emergency dental work. Serious or persistent pain can be a sign that you have developed an infection, something that should be addressed as soon as possible. When an infection has time to develop and spread, it can put you at risk for health complications, and it can leave your tooth in such a poor state that it has to be extracted. Rather than have you go through this, we can bring you in on short notice so that we can restore your oral health before you experience further difficulties!
Addressing Pain By Providing Root Canal Therapy
Root canal therapy can be an important part of treatment if you have a severe cavity, or if a physical injury makes you vulnerable to an infection. Through treatment, your dentist is able to remove bacteria as well as infected tissues – doing this will put a stop to your ongoing discomfort. After the infection is removed, we can protect you against future trouble by sealing your pulp, then placing a dental crown for protection.
Restoring A Vulnerable Tooth With A Lifelike Crown
Dental crowns are used to protect and preserve vulnerable teeth that are badly damaged, including those that are treated through root canal therapy. There are several types of materials that are used to create crowns. If you need work done to restore a tooth that is visible when you smile and speak, we can recommend a restoration that can imitate healthy enamel.
Talk To Sunny Smiles To Schedule Emergency Dental Work
Through emergency dental work at Sunny Smiles, you can save a vulnerable tooth that is in pain. Prompt care can stop a spreading infection, address physical damage, or take on any other situation that can make your visit a priority. To find out more about how we can help you, please contact your El Paso, TX, dentists by calling 915-849-9000.