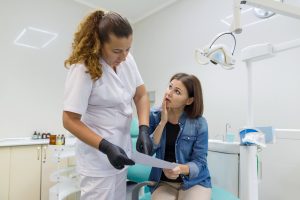 At Sunny Smiles, we regularly see patients for routine preventive dental care. These preventive appointments play an important role in helping a person maintain their well-being over time. After all, they provide cleanings and evaluations that reduce your risk for problems and lead to their identification and early treatment. While we certainly hope you only need to visit us for exams and cleanings, you should know that we are prepared to meet with you when something is wrong, even when the problem calls for urgent care! We can meet with you to provide prompt care for an injury or issue with severe pain in order to identify and resolve the matter.
What To Do When A Problem Calls For Urgent Care
If you injure a tooth, or if you experience a prolonged or severe toothache, you can reach out to our practice to arrange emergency dental care. At your appointment, we can perform an evaluation to see what treatment should involve. For a physical injury, we can discuss different cosmetic or restorative dental services. If you have a problem with dental pain, it may be necessary for us to perform root canal therapy to resolve problems with an infection that has developed.
Emergency Services For Physical Trauma
How much work will it take to restore a tooth that is chipped, cracked, or otherwise broken? We can provide helpful information on this after you arrive for your procedure. We can work to save as much of your tooth structure as possible and work to prevent the loss of a tooth that is no longer secure, or even one that has become completely dislodged. While it is possible to address some physical injuries by performing cosmetic treatment, it may be necessary to provide restorative dental work to ensure the tooth is protected and visibly restored.
Emergency Treatment For Severe Or Persistent Tooth Pain
The onset of persistent or serious discomfort should not be ignored. The pain you feel could be connected to an infection that will require root canal therapy. During this procedure, we will remove bacteria and infected tissues to put a stop to your discomfort. Once finished, we can seal the tooth's pulp and make plans to place a crown over your tooth. Continuing to ignore pain or sensitivity issues can lead to more consequences over time. Eventually, a tooth's health can deteriorate so much that there is no way to save your tooth!
Sunny Smiles Is Ready To See You During Your Dental Emergency
In the event that you experience a dental emergency, Sunny Smiles is prepared to see you on short notice and provide care. To find out more about how we can help you on short notice, or to discuss our general services, please contact our El Paso, TX, dentists' office on N Zaragoza Rd by calling 915-849-9000.