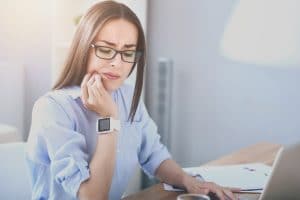 If you start to experience tooth pain, or uncomfortable problems with your bite, you may consider the matter something to discuss with your dentist. While you can recognize that something is wrong, you may be unsure of whether to treat the situation as urgent. You can be happy to know that when patients need emergency dental work, our El Paso, TX dental practice can offer that care to them. If you think your issues with discomfort might call for prompt attention, please let us know. We can make sure that the matter is successfully addressed through restorative dental work before the situation worsens, and complications require additional care.
Dental Discomfort Can Be A Symptom Of A Serious Problem
You might not realize just how serious a problem is, even if it creates notable discomfort. When it comes to tooth pain, or sensitivity, the persistence of your problem can serve as a warning that your tooth is feeling the effects of an infection. If this is the case, a root canal treatment will have to take place to restore your oral health. If you are dealing with pain in your face, jaw, neck, and head, TMJ dysfunction might be impacting your life. If the problem also involves teeth grinding, which is often a related concern, you are at risk for potentially serious dental damage!
 Arranging Dental Work On Short Notice
If your pain is affecting your life, you can talk to your dentist about arranging treatment as soon as possible. We do offer emergency dental services in cases that warrant it. By acting swiftly, rather than putting off a procedure, you can protect yourself against the situation growing more severe. If too much time passes without treatment for a tooth infection, bacteria can travel to your jawbone through the tooth's root. If you keep ignoring the signs of teeth grinding and TMJ dysfunction, you can wind up with wear and tear that requires cosmetic dental work to address, or possibly the placement of dental crowns.
How Will You Look After Your Dental Work Is Completed?
If you end up needing any kind of restorative dental work for your issues with dental discomfort, you can be glad to know that we use modern restorations. The dental crowns and dental fillings we rely on to help patients return to good oral health are made to match the look of your enamel, so you can walk away from care feeling great about your smile, even as you feel relief that your pain is no longer intruding on your daily life.
Talk To Sunny Smiles About Urgent Care For Dental Discomfort
At Sunny Smiles in El Paso, TX, you can count on effective dental care when you are feeling the effects of a possible oral health problem. For more information about our practice, or to set up an appointment, call our East El Paso location on N. Zaragoza Road today at 915-849-9000!