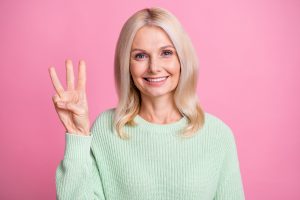 Is it time for you to see your dentist for a general oral health exam and teeth cleaning? Postponing or skipping appointments can leave you more vulnerable to problems with your smile, even if you feel that you are doing a good job between appointments keeping your smile in good condition. Without regular reviews and cleanings, you can experience problems with tartar buildup, let cavities go untreated, and miss out on early warnings for other possible problems. Patients at Sunny Smiles can look forward to valuable support and feedback at every appointment. We provide services to patients of all ages, which means everyone in your family can come in to see us for treatment!
1. You Can Receive Important Feedback About Your Oral Health
At every routine dental exam and cleaning, a patient will receive important updates about their oral health. This means more than just discussing cavities and gum disease. We can identify any issues that might call for restorative dental work, or the need to do more detailed evaluations of your oral health. We can also discuss the potential link between daily aches and pains and your dental well-being. Many people start to experience jaw pain and stiffness, headaches, and more because of bite imbalances and other problems that lead to TMJ disorder. We can determine if this problem is impacting your quality of life and help you put a stop to it.
2. You Can Undergo A Beneficial Teeth Cleaning
Teeth cleanings help patients with problem-free smiles stay in good condition. When you brush and floss, you can remove harmful bacteria, food deposits, and even plaque buildup. However, you will not be able to deal with tartar deposits that have already formed. Without a scheduled teeth cleaning, tartar can remain in place, and that can make you more likely to experience gingivitis or dental decay.
3. Your Dentist Can Recommend Treatment For An Active Problem
You may not realize that a cavity has already formed on your tooth. If that cavity keeps growing until it starts to hurt, it can be serious enough to require advanced care. However, if it is caught in time, your dentist can remove the area where decay formed, then place a dental filling to support your surrounding enamel. The fillings we provide imitate healthy tooth structure, so this will not negatively affect your appearance.
Schedule General Dental Care At Sunny Smiles!
General dental care at our practice can help you maintain a happy, confident, and healthy smile. Sunny Smiles provides a variety of general, restorative, and cosmetic services to our patients. Because we see people of all ages, we can help you as well as your kids stay on top of your oral health issues. To find out more, contact Sunny Smiles at our Dyer St office in El Paso, TX by calling 915-859-7000.