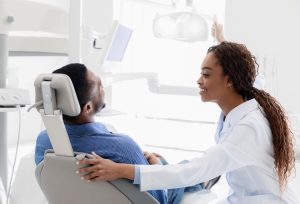 Is it time for you to book your next routine dental exam and cleaning? If you have already gone more than six months without one, you may be past due for a visit, and that delay may have put you at risk for more oral health troubles! Regular appointments provide you with thorough teeth cleanings as well as a review from your dentist to see if any problems need to be addressed. You may not realize when a cavity forms, and you can overlook signs of gum disease, which makes these regular reviews important. Sunny Smiles is prepared to review your smile and identify any trouble that requires treatment. In addition to providing routine care for adults, we are also happy to schedule pediatric dental appointments and take care of your kids' smiles.
How Consistent Dental Exams Benefit Your Smile
Consistent dental exams and cleanings help you maintain attractive, healthy teeth, and they also help you avoid complicated or severe oral health issues by spotting trouble in earlier stages. These routine visits can mean the difference between a dental filling for a small cavity, or a root canal and dental crown for a more severe one. Thanks to the work of your hygienist, they provide protection so that you can more easily go from one visit to the next with no oral health issues at all!
The Role Teeth Cleanings Play In Preserving Your Oral Health
Teeth cleanings remove plaque deposits as well as tartar buildup, which serves to lower your risk for problems with your oral health. You can take care of plaque buildup yourself -when you brush and floss consistently, you can remove any plaque that may have formed before you have trouble with tartar formation. Unfortunately, when you do have tartar buildup, you will not be able to address it on your own. When this substance gathers, it makes a person more vulnerable to troubles like tooth decay and gum disease.
What To Expect If Your Dentist Identifies A Problem With Your Oral Health
When your teeth are evaluated by your dentist, you receive feedback about problems with tooth decay and gum disease, both of which may escape your notice…at first. When these problems are caught and treated in time, we can minimize potential complications. In addition to looking for these common issues, we can also watch out for other issues, like TMJ disorder, which can cause persistent problems with headaches, jaw pain, and more!
Talk To Sunny Smiles To Schedule A General Dental Checkup
If you have fallen out of the habit of scheduling dental exams, you may be more vulnerable to oral health problems than you realize! You can schedule your next appointment at our Sunny Smiles office on Dyer St in El Paso, TX by calling 915-859-7000.