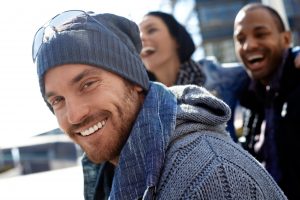 With the right treatment, you can start showing off a smile that is bright, symmetrical, and youthful. While you may not be surprised to hear that cosmetic dentistry can produce positive changes, you may be surprised at how much your appearance can change through a conservative treatment. Sunny Smiles provides patients with several treatment options that can address discoloration, damage, problems with tooth shape and size, and even the appearance of gum tissues. By discussing your desired changes and learning more about the procedures that are available to you, it becomes easier to plan care that can give you stunning results!
What Smile Changes Do You Hope To Enjoy?
The goal in cosmetic treatment is to address any problems that keep you from showing off a dazzling smile. Are you worried that the color of your enamel makes you look older, less healthy, or less attractive? Has wear and tear caused changes to your appearance that you would like to address? Do you have naturally occurring issues with tooth shape and size, or with gum tissues that are bulky or uneven? These are all concerns that a cosmetic dental procedure can address. What can surprise you is just how many issues the right procedure can resolve!
One Procedure Can Do More Than You Might Expect
With porcelain veneers, we can change your appearance by improving the shape, size, and color of teeth. In some cases, they can even cover awkward gaps or overlaps that create imbalances in the way you look. Your veneers will be personally made for you, with care taken to make sure they look natural and also give you the right smile improvements. They are strong enough to hold up against years of friction from biting and chewing, but their slim design minimizes changes to your tooth structure, which can make this work more conservative than you expect!
Dental Crowns Can Also Make Positive Changes To Your Smile
Before moving forward with a cosmetic procedure, we can evaluate your teeth to see if there are any concerns about your dental health that might affect treatment. Sometimes, it is necessary to address a problem with an undersized, misshapen, or injured tooth with a custom dental crown. With a lifelike crown, we can take care of your oral health while also helping you see esthetic improvements!
Discuss Your Interest In Cosmetic Dentistry At Sunny Smiles!
At Sunny Smiles, we provide several cosmetic procedures that help you take care of your smile and give you an exciting confidence boost. You can find that your goals are easier to reach than you expect, as the right approach to your care can lead to results in less time, and with less work, than you anticipate! To find out more, please contact your El Paso, TX, dentists' office on N Zaragoza Rd by calling 915-849-9000.