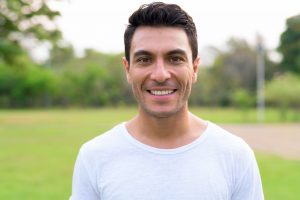 What can you look forward to when your smile makeover is complete? Sunny Smiles provides a variety of services that can positively change your appearance. For people in and around the El Paso, TX area, we can pursue treatment that can address issues like dental discoloration, damage to your enamel, and problems with tooth shape and size. In other words, we can take on many different concerns that a person might have about the way they look. If you have several changes you wish to make, we can talk to you about your treatment options and what they involve. You may be surprised to hear that only one procedure is needed to give you all of the improvements that you are seeking!
We Can Put Ambitious Smile Improvements Within Reach
There are many smile improvements that we can make with as little as one cosmetic dental procedure. Because of this, we can deliver exciting results in a shorter period of time than you may think possible. We can even take on several concerns at one time. With porcelain veneers, we can hide blemishes, cover up chips or cracks, and even improve the shape and size of teeth to make your smile more symmetrical.
Making Plans To Improve The Color, Shape, And Condition Of Teeth
If your goal is just to make your smile whiter, we can recommend a teeth whitening procedure. Will this still be an appropriate part of your treatment plan if you want to address problems with the condition, shape, or size of teeth? We may be able to move forward by placing veneers, or by changing your smile through tooth bonding and contouring work. As you learn more about our cosmetic services, you can be surprised to find out just how much good a single procedure can do.
Will Your Makeover Plans Include Restorative Services?
In some cases, we may recommend restorative dental work as part of a smile makeover. These services are needed to address oral health concerns. For example, if you have problems with chipped or cracked teeth, we may need to use dental crowns instead of veneers to provide more bite support. We can also discuss prosthetic dental work if you have any missing teeth that you wish to replace.
Start Planning A Smile Makeover At Sunny Smiles!
By committing to a smile makeover, you can find that significant cosmetic improvements are easier to achieve than you expect! Sunny Smiles provides a variety of treatment options, and we can help you understand the benefits of different procedures to address your specific concerns. To find out more about our cosmetic treatment options, or to learn more about the other services we provide, please call our dentist's office on Dyer St in El Paso, TX at 915-859-7000.