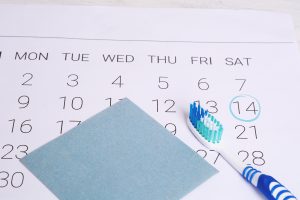 How hectic is your typical weekday? Between work and family obligations, people sometimes struggle to make time for themselves, even when their concerns are centered on their health and well-being. If you find that arranging a dental appointment during the week is difficult, Sunny Smiles can help by welcoming you to schedule a Saturday dental appointment. By maintaining Saturday office hours at our dental practice, we can make beneficial services easier to schedule and attend. Remember that consistent preventive dental care helps you prevent tartar buildup and avoid issues with tooth decay and gum disease. These visits also alert you to a variety of problems that can be treated before complications become a concern.
Scheduling Difficulties Can Make Preventive Care Harder To Arrange
Even if you are aware of why you should schedule routine dental exams on a consistent basis, finding time for appointments can prove tricky. If your schedule is not flexible, or if it is often packed with different responsibilities, finding time on a weekday to schedule care can be tough. Our practice wants patients to stay committed to preventive care. To make this easier, we provide office hours on the weekend. By doing so, we can make it easier for someone to stick with a semiannual checkup schedule and protect their smile from harm.
You Can Visit Us On A Saturday!
Because we maintain office hours on Saturdays, we can meet with patients of all ages who are due for their next appointment. We can also take time to see people who have concerns about their oral health, or with the appearance of their smile. A regular visit provides a thorough teeth cleaning along with a closer review for any signs of trouble that ought to be addressed. In addition to providing these services during pediatric dental exams, we can offer guidance on oral hygiene and check their development for any signs of concern.
The Long-Term Benefits Of Consistent Preventive Care
What do you gain from seeing your dentist on a steady basis? Regular checkups make you less likely to deal with problems like dental decay or gum disease. Your hygienist helps with this, as they will remove tartar and plaque buildup that may form on your smile between visits. By closely examining you, your dentist can look out for possible problems that call for treatment before complications occur.
Schedule A Saturday Dental Appointment At Sunny Smiles!
By extending our office hours to Saturdays, Sunny Smiles is able to take care of individuals who struggle to make time for oral health care during the week! If you are due for your next exam, or if you have any questions about your oral health, you can contact our El Paso, TX, dentists' office on N Zaragoza Rd by calling 915-849-9000.