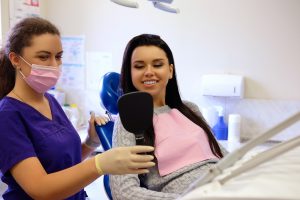 Fitting regular dental appointments into your life will help you avoid problems with tooth decay and gum disease. Your routine dental exams and cleanings reduce your risk for difficulties that call for restorative dental work, and they give your dentist opportunities to identify problems that can interfere with your quality of life. Sunny Smiles makes it easier for patients to find time in their schedule for preventive care by offering office hours on Saturdays! For those individuals who find it hard to make time for appointments during the week, these hours can make beneficial dental care easier to access. If your dentist identifies a problem during your appointment, we can discuss restorative dental treatment to maintain your appearance and oral health.
The Benefits Of Making Time For Dental Care
Regular dental visits provide thorough reviews and cleanings performed by your dentist. These services help you avoid the onset of potentially difficult problems that can occur over time. Cleanings remove plaque as well as tartar buildup, which will help you avoid difficulties with your dental health. When your dentist evaluates your teeth and gums, they can watch for cavities, gingivitis, and problems like wear and tear from bruxism. Consistently scheduling these appointments will help you remain confident in your smile, and stay protected against oral health threats.
Scheduling Your Next Checkup
When should your next dental appointment take place? Unless you have been told to follow something different, you should schedule an appointment every six months. By sticking to a semiannual appointment schedule, you receive consistent reviews as well as cleanings to remove harmful bacteria from your teeth. Falling behind on appointments can lead to several issues. A problem with tooth decay or gum disease can form an worsen in time, which can lead to complications. You can also experience increasing discomfort because of unresolved problems with TMJ disorder.
What To Expect When Problems Are Identified
At an appointment, your dentist can recommend treatment if you have a problem identified at an appointment. When your dentist catches a cavity in time, we can treat your tooth with a dental filling. If a cavity is too large for a filling, we can instead use a dental crown. Trouble with gingivitis can call for a periodontal cleaning, a more involved cleaning we perform to remove bacteria from below the gum line.
Schedule A Saturday Dental Visit At Sunny Smiles!
Consistent dental visits help you avoid difficulties with your oral health that can worsen over time and create potentially serious issues. Because Sunny Smiles provides dental care on Saturdays, we can make it easier for you to schedule your appointments and remain consistent with preventive care! If you have questions about our services, or if you wish to schedule a visit, contact your El Paso, TX, dentists' office on N Zaragoza Rd by calling 915-849-9000.