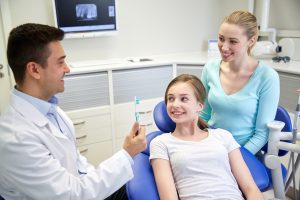 In time, a baby's teeth will begin to arrive. Once they do, you should be prepared to help them stay protected against cavities. While daily care and attention obviously help with this, you should know that you are not the only person who can help protect their growing smile. When they are old enough, you can bring your child for their first pediatric dental visit. Sunny Smiles provides dental health care for patients of all ages, including younger kids. We can provide an initial appointment to introduce youngsters to the dentist's office and dental care. We can also provide ongoing preventive care to children as they age. During these visits, we provide protective care as well as guidance on how they can protect their teeth themselves!
Dental Exams Help People Of All Ages Maintain Healthy Teeth
For younger and older patients, our practice is capable of providing consistent preventive dental care. Regular dental exams provide adults with regular protection and feedback that will keep them from experiencing difficulties with their appearance and well-being over time. Pediatric dental exams can address many of the same concerns as visits with adults. However, we can also provide additional help. Part of our focus will be on making sure younger kids are comfortable in the dentist's chair. We also use visits as opportunities to tech our littler patients how to brush and floss regularly so that they can eventually take on these tasks themselves.
How Regular Visits Benefit Kids
Kids have much to learn over time. Parents provide important guidance as well as direct support to ensure they grow up healthy and happy. With that said, parents are not the only ones who can help when it comes to dental care! Part of a pediatric appointment's purpose is to introduce children to concepts of oral hygiene that they will implement for themselves. We also take care to make the dentist's office feel like a friendly and welcoming place, which can help them feel at ease when they come in for subsequent appointments.
Our Practice Can Help Everyone In Your Household!
Our office is here to help patients of all ages, which means we can welcome everyone in your household! By keeping up with your own routine appointments, you can make sure your teeth remain free of problems that might require restorative treatment. We can alert you to problems with your periodontal health as well as with the condition of your teeth, which helps you avoid potentially serious health complications.
You Can Bring Your Child In For Dental Care At Sunny Smiles In El Paso, TX
Our office is ready to help families in and around El Paso, TX maintain healthy and lovely smiles! If you have questions about our pediatric dental services, or if you want to learn how we can help you, please contact Sunny Smiles at our Dyer St location by calling 915-859-7000.