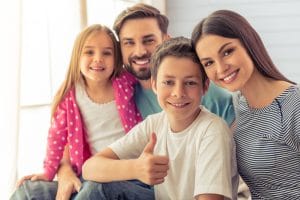 As 2021 begins, many households have not settled back into a comfortable schedule. Maybe college students are still home, or work schedules haven't returned to normal. It may have been months since a schedule has felt normal, and we know that regular family checkups and cleanings might not have made it to the top of the to do list. When it seems like your schedule might be getting away from you, that is an excellent time to take advantage of weekend dental appointments in El Paso, TX. It is the same great dental care, on a schedule that works for you.
Weekends Can Be Easier for Family Appointments
If you are the go-to dental scheduling person for your family, you know it can be hard to juggle children at different schools, or a parent in a different location, trying to get everyone to the office without multiple trips. A Saturday appointment means you can schedule once, and bring everyone with one trip. Our office has technology and amenities everyone will appreciate, and you have peace of mind knowing your whole family is getting the checkups and cleanings they need to preserve their oral health.
Weekends Mean You Get Help When You Need It
It would be nice if every tooth question occurred between the hours of 9 and 4, on a weekday. Life doesn't work that way, so our office is open on evenings and weekends, to work with your schedule. If you are starting to sense something might be wrong, it is better not to wait until it becomes a toothache that cannot be ignored. Weekend appointments mean we can diagnose and treat the problem without you or your family missing work or school.
Weekends Mean Recovery Time When Needed
Sometimes you need a dental procedure, and you'd rather have a day or two of down time before returning to the office or the full-time tasks of your life. A tooth-colored filling can address a cavity in a single appointment, and a weekend appointment gives you a little extra time before you have to hit the ground running.
We Have Weekend Appointments for Our Patients Who Prefer Them
Your dental health is important to us, and we are open selected evenings and weekends, to make sure we can see you at a time that fits your schedule. To find out more, please contact Sunny Smiles in El Paso, TX by calling 915-859-7000.